1st items of 2018
Earlier today, Nick Fish and the Portland City Council unveiled its preliminary working report on what the city could do to preserve and expand, "Affordable Arts Space in Portland," you can read it here. First of all, we've been calling for many of these things for more than a decade here, here, here and here. The thing is the art community now has City Hall's attention since Portland's identity as an cultural tourist destination is at risk to rising costs. So yes, a clearinghouse of spaces and incentives is crucial. I'm also glad the cultural liasson position is coming back to City Hall, I made use of it when we did the Donald Judd conference. The thing is the "corner" that Portland needs to turn isnt just about affordability. Technically, Portland cant roll itself back to the dirt cheap days. Instead, it needs to reframe this discussion not just as a return to affordability but as a more pro-active and assertive use of its support resources for cultural use. That means getting the resources (money, spaces, prestige awards and networking) into the right hands and for reasons that raise expectations. Portland is frankly terrible at being serious about support even when its clearly a big deal (think "Portland Polite" and "humble brag" rather than recognition of achievement). Instead, there is an infantilism around the discussion of cultural support. In fact, there is a kid's photo as the first image on the report. Culture creates serious careers, roles and spaces, why the kid photo? Also, of all the stake holders listed there is no active working artist advisory group and most in the visual arts scene dont know anything about this 2 year to date project. Frankly, that's like forming an action plan for getting resources to doctors without asking doctors what they need. Yes, other cities have done similar things, but Portland has some unique challenges and it will take local know how to make it effective in implementation (hint not the same old). Still, this is great news and I have been repairing a topical and very long think piece I hope to get published here soon. This new arts plan is is a needed step in the right direction but it needs to be reframed from "Affordability" to a one of distributing effective support for the brightest lights... because those are the people Portland needs to keep. Just supporting quirkiness isn't enough when resources get scarce and ever more crucial. Currently many outdated practices form barriers that have no place in 2018. February 15th will be the next time the Council meets on this and I'll have an article that goes far beyond the City Council's scope... though it is a crucial pies of the benign neglect policy the city has pursued until now. This is about Portland keeping its edge and cometitive advantage against other cities, that requires a few new moves that I'll get into later.


The Met is now Charging admission, especially for those who are visiting NYC and the critics at the New York times hate it. It smacks of elitist class warfare and puts the museum in the crosshairs of the massive income inequality issue. Not good, all major museums are trying to negotiate this issue and the Met just wiped out on this wave.

On the same topic, Hyperallergic interviews the Met's Director who tries very hard to do damage control... but it reminds me of some uncle caught in a nerf battle between 10 kids on Christmas morning.
Read More
Posted by Jeff Jahn on January 09, 2018 at 14:35 | Comments (0)
---
First Thursday January 2018 Picks

Robert Frank, Santa Fe - New Mexico, from the book The Americans

He's ultra influential and considered by many to be one of the father's of street photography but Robert Frank's work is rarely seen. To remedy this situation Frank and Gerhard Steidl concieved of a travelling exhibition of photos, books, and films. Rather than as ultra precious objects Frank's images are printed on sheets of newsprint and hung on the walls or from the ceiling. This is one not to be missed.

Robert Books and Films 1947 - 2018 | January 4 - February 25
First Thursday Reception: January 4, 6-8PM
Blue Sky
122 NW 8th


... (more)
Read More
Posted by Jeff Jahn on January 04, 2018 at 14:51 | Comments (0)
---
NTVTY VIII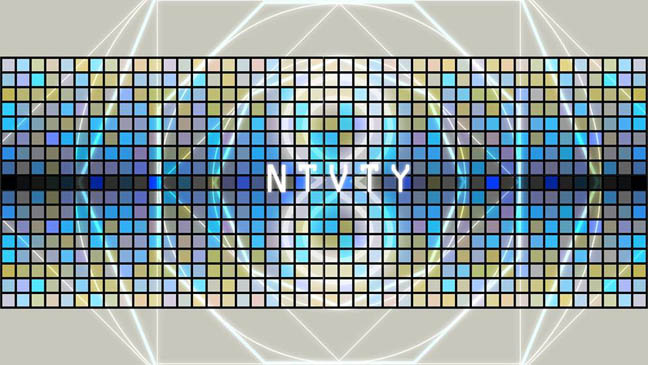 It is an annual tradition but XChurch's experimental NTVTY, a pan-media-dimensional holiday happening will have it's 8th and last iteration at this tiny church this weekend. Be there to know how Portland does its artiest of holiday events. Three nights only.

NTVTY VIII | December 23-25 @ 7:00PM
XHURCH
4550 NE 20th Ave
Read More
Posted by Jeff Jahn on December 22, 2017 at 16:56 | Comments (0)
---
Opening a third way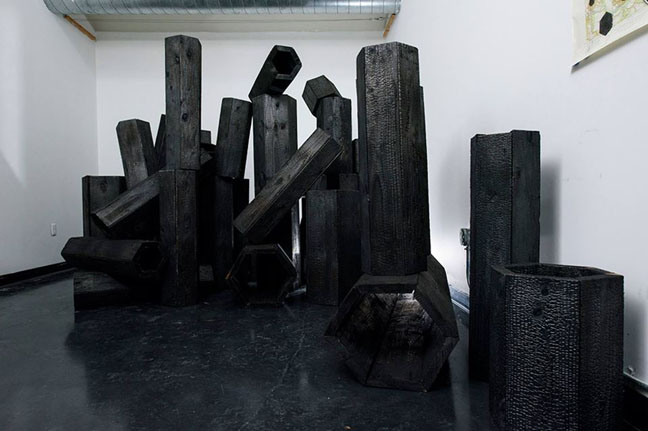 Forecasting Cascadia: metabolic architecture and climate change by Abigail Emiko Inoue Cox

It has been a brutal couple of years for Portland's alternative art spaces (with bright spots like Una, Grapefruits, C:3 and Indivisible) but we continue to add exciting new venues here and there. Thirdspace is the latest, featuring the work of Abigail Emiko Inoue Cox. Her installation Forecasting Cascadia: metabolic architecture and climate change comes right after yesterday's 4.0 earthquake so it has remarkable timing. She is interested in the intersection of ecology and design (a favorite subject of mine) and her use of carbonized wood forms recalls the forest fires and building boom of 2017 as well. Afterwards there will be a community discussion about opportunities for the space in the coming year. Let's hope the find a third way in these too binary times,

Launch | December 14 - January 20, 2018
Opening: December 14 | 6 - 7:30PM -ish
Introduction to the space with dir. Kalaija Mallery: 7:30PM
Roundtable discussion: 8:00-ish
Thirdspace
707 NE Broadway

Read More
Posted by Jeff Jahn on December 14, 2017 at 14:12 | Comments (0)
---
First Thursday Picks December 2017

Lorna Simpson, Wigs (Portfolio) 1994

From the collection of Jordan Schnitzer Blue Sky is concluding the Embodied: Asserting Self exhibition series with an exhibition of Lorna Simpson's Wigs. Focusing on the human obsession with hair as well as ties to self, family and society this is one of her best bodies of work and extremely topical today.

Lorna Simpson | December 6 - 31
First Thursday Reception: December 7, 6-8PM
Blue Sky
122 NW 8th




Focusing on the way female voices and contributions are constantly mitigated Caitlyn Clester has curated works by; Eden Gately, Kailyn Hooley, Emily Schwartz, Kalaija Mallery,Caitlyn Clester, Jaleesa Johnston, Kimmy Munoz, Anita Spaeth, Helen Hunter and BloC. I like the title of the show and it is certainly a topical subject.

Conceiling the Ambient Obscuring the Encompassing | December 7 - 15
First Thursday: December 7, 6:30-9:00PM
PNCA (in the commons)
511 NW Broadway

Read More
Posted by Jeff Jahn on December 07, 2017 at 13:27 | Comments (0)
---
Early December Stories
Brian Libby has expanded an in print article on the restoration Of Pietro Belluschi's Sutor house. It reminds me how Marylhurst University botched their restoration and move of their Belluschi by altering the hearth for inxeplicable reasons. The Sutor House was done right.

The Portland Art Museum will try once again to get approval for the Rothko Pavilion. I'm in favor of this plan despite the museum going with a very risk adverse design. Currently the museum campus is cut in half and disability access is an immense maze and I believe the expanded hours and greater access for pedestrians and bicyclists should be enough. My greater concerns is that the galleries be great spaces for looking at art and that the museum's design is so standard museum when in fact the space called for more creativity. Problem is both city hall and patrons at PAM are so conservative that that kind of groundbreaking design was not undertaken and the resulting back and forth between the community and PAM became fraught. PAM is sitting all of the civic and social faultlines. City Council meets at 2:00 Thursday.

The climate of moral revisionism and censorship is in full effect and calls to remove a Balthus at the Met are just the latest round. Look ... Art isnt supposed to illustrate moral ideals (which change over time). Instead art pulls at the loose threads that make up humanity and our world. Not all of those threads can be noble, that would be a great disservice and art can act as a lightning rod. The activities of individuals are somewhat different from their art but they are related and its that series of complications which gives some art its staying power. If it no longer stays over the long term then history has sorted things out. Politicians are elected, art isnt. Myself, I find Balthus distasteful and would relegate him to the storeroom but not because of a petition. the whole "wisdom of the crowd" idea misses the fact that such crowds usually lack wisdom. Still, perhaps tastes have changed... we no longer eat somewhat spoiled foods like the Romans did.
Read More
Posted by Jeff Jahn on December 06, 2017 at 16:38 | Comments (0)
---
Jim Archer 1942-2017

Jim Archer

I was saddened to learn of James (Jim) Archer's death today. He always had that steady form of persistent but serious energy for art and the lives of visual artist that distinguishes true trail blazing champions from mere art supporters. As the first director of what eventually became named the Archer Gallery (eponymously) at Clark College he gave Portland's neighbor to the north its premier visual art space. He was also an avid collector donating 129 works to to Clark College last year, doubling his legacy and cultural footprint in Vancouver Washington, just as the city is beginning to embark on a more ambitious arts agenda. One could rightly say that Archer was a foundational figure for that city and a model for advocacy I wish there was more of. A very active member of the Portland art scene, he will be missed.

... (more, including Clark College's comprehensive obituary)
Read More
Posted by Jeff Jahn on December 01, 2017 at 17:44 | Comments (0)
---
End of November links
First of all, shops in Portland that are also a gallery is nothing new in Portland. Nationale and others have been doing it for years and Motel (run by PORT Co-Founder Jennifer Armbrust) broke a lot of new ground. With rents rising and online being ever more important to retail and fine art brick and mortar seems to need the flux that 2 genres can offer. Thing is it always seems to benefit the merchandise more than the fine art. I'd like to see some one make it a win win on both sides. That said I am all for more of these hybrid spaces.

It is no secret that artists dont make that much money but this study digs deeper and Portland clocks in as the second highest concentration of artists in the country with 500 per million, far above the next closest (Denver at 250) and second only to Miami's 581. Question is what is city hall doing to encourage this entrepreneurial edge? We want to maintain this.

Dan Cameron is curating a Midwest Biennial in Kansas City. As a former midwesterner myself Im all for this... the whole perception of flyover states and arts being concentrated on the coasts is corrosive to what makes the USA great.
Read More
Posted by Jeff Jahn on November 30, 2017 at 15:33 | Comments (0)
---
Thanksgiving weekend picks
Ok, many have cabin fever with the family and or loved ones and have already had their fill of holiday shopping (I detest it). The clear antidotes are some art exhibitions that allow one to stroll and contemplate while getting far awy from the house or stores. Here are my picks:

Andrew Wyeth, On The Edge (2001)

The Wyeths: Three Generations at the Portland Art Museum feels more like a family gathering than a museum survey of the Wyeths... because that is exactly what it is. It is a good thing. Whether you love Andrew Wyeth's bone ghostly landscapes or his masterful wisps of existential hair in hardscrabble Americana or not this exhibition extols a waspy New England generational presence, like a Thanksgiving Day rendezvous with all the familial dramas, humor and warmth simmering underneath. That said, I am an unrepentant Andrew Wyeth fan despite the work never really being couth in Greenbergian... then Artforum circles (a sign he was on to something) and I also grew up appreciating N.C Wyeth's illustrations. All of which contributed to a more fluid appreciation of visual culture that doesnt put artificial barriers up between graphic art and Art. As a family, the Wyeths cover the whole spectrum... but Andrew Wyeth is the great one and the reason there is a traveling exhibition of his family's work. There's a vitality in this filial arrangement. Patriarch N.C. Wyeth has a fantastical bent, Andrew's world is haunted and Jamie brings humor and nature's animus. True, this a lot of waspishness here in a time when all white male Newenglanders are reviled as a kind of LLBean clad Brahman class in the US socio-political landscape but I am a firm believer that no one be they Mexican, Jew, Irish, Italian, Nordic or Hmong should have to apologize for what they are and what their culture brings to the table. There are some truly marvelous works, especially the large Andrew Wyeths that are not behind glass, several N.C. Wyeth oil paintings that became book illustrations and a witty conclusion with Jamie Wyeth, whose painting of empty adirondak chairs sums it all up.

The Wyeths: Three Generations | October 7 - January 28, 2018
Portland Art Museum
1219 SW Park Ave




Bill Will, House of Mirrors

It is a great time to reflect on the state of the USA at the moment. To that end perhaps no Portland artist illustrates the risks that have always been present than Bill Will. Will is one of Portland's biggest trickster satirist installation artists and in times like these what could be more appropriate than a lil art sideeye? Funhouse at the Hoffman Gallery is just what we need, a reminder of just how wrong we have always been as a nation. The entire menagerie of installations themselves form a funhouse with a specific route of whirling twirling theatricality that the viewer completes as a participant... predictably ending in a gift shop.

Funhouse | September 10 - December 10
Ronna and Eric Hoffman Gallery of Contemporary Art
Lewis & Clark College
0615 S.W. Palatine Hill Road




photo: Yamazaki Kenji

What could be a better antidote to holiday shopping and being cooped up with relatives for days? ... a quick trip to Japan, sure. Well, the Portland Japanese Garden is one of our premier cultural gems and the latest exhibition Mirrors of the Mind: The Noh Masks of Ohtsuki Kokun is perhaps the ultimate exploration of sophisticated mask creation. Noh masks are incredibly subtle as they are meant to be animated by the slightest turn transforming mild into sly and the demonic into loyal or honorable in the hands of a capable actor. This gives Noh masks an otherworldly aspect that draws viewers into a kind of phantasmagorical understanding/experience of why and how faces convey complex meaning through manipulation of light and posture. Master mask maker Ohtsuki Kokun elevates what in the USA has been thought of as merely an entertaining past time into something more sublime and hard to pin down. Certainly these mask reflects on a place of shadow where humanity dwells and communicates... masks can reveal the ghost in the machine. On top of that the Garden in Fall is simply outstanding.

Mirrors of the Mind: The Noh Masks of Ohtsuki Kokun | October 14 - December 3rd
Portland Japanese Garden
611 SW Kingston Ave
Read More
Posted by Jeff Jahn on November 25, 2017 at 10:17 | Comments (0)
---
First half of November links
I have been traveling a great deal but PORT has a lot of reviews and other content heading your way. Till then here are some links to mull over.

Jerry Saltz doubts the recently "found" Da Vinci painting... it is up for auction with a starting bid at $100M tonight. Overall, I find the painting to be just too convenient and yes pre-renaissance stylistically to be a Da Vinci without major question marks. The thing is auctions at this and of the market have very little to do with the art and a lot to do with turning cash (legal and dubious) into an asset that can be used as collateral for other things. This isnt about building a collection or appreciating art and most of the major collectors I know have a certain distaste for auctions. Interesting that Jerry's segment for NBC news got cut after it was taped. hmmm...

Here is a fascinating article about whether art can effect science... answer is yes. Science like most professions has certain preoccupations driven by what people believe and one great thing about art is it can present different epistemologies.... ones that can be tested scientifically. Sometimes, one has to see something to believe it is worth testing. I've always loved the odd hems and seams (seems?) that are woven into to the art/science dialectic. That also means that art is not some isolated cul-de-sac of civilization. It can express idiomatic world views rather than just illustrating them. The work which seems like a strange outlier is actually quite important... it can be a different understanding knocking on the accepted ideas. Something that has been increasingly rarer to find in art and politics... both of which have been losing their more supple approach to connecting with people. Sometimes you have to challenge something to keep it valid and capable of fixing themselves. Freedom and liberty are two of those things. Science and Art are both crucial, it was making both science and art available to the public that lead to greater liberties. The second those things stop being free range and directed by ideologues things get worse for all but a few.

Which is a great segue... No, artspeak generally is not used to disseminate actual research as art. It is a special kind of careerist sublimation of how and why certain art operates. True some research works (notice how Andrea Geyer's dialog around this show was pretty direct... and arguably the last "Great" visart thing I've seen PICA do) but more often it is just code for, "dont challenge my all important CV." In fact, anything is fair game and in a time where institutional rigging and tampering effected a major political election I'd say that no amount of research actually justifies work. Instead, its the way art reveals the mortar that holds various bricks of civilization together... or even how those walls fail that makes art and critical assessment (which requires comprehension of goals and intentions) important.

It is a long established fact that developers usually come into places that artists revitalize 10-15 years after the artists move in. This has happened in Portland. The difference in this latest situation in LA with Laura Owens is a very successful artist (many of whose collectors are wealthy developers)is seen as being too quick a catalyst. It is a cautionary tale and I'd like to see development in Portland that creates new... (more)
Read More
Posted by Jeff Jahn on November 14, 2017 at 14:10 | Comments (1)
---
First Thursday Picks November 2017

Adam Sorensen's Places at PDX Contemporary

I've followed, championed and worked with Adam Sorensen .. going way back and Places is easily his strongest exhibition to date. I think it is the sublime aspect that isnt just filled with wonder but a certain terror of impossible discovery and landscape that lets us locate our own fantastical expections for nature that works here. It is also his most zen-like un-fussy but precise paint handling that works here. In these somewhat terrible times Sorensen shows us a fantasy that is at once both appealing and synthetically off. It provides a fantastical recalibration and spa-like perceptual respite at the same time.

Places | November 1 - December 2
First Thursday Reception: November 2, 6-8PM
PDX Contemporary
925 NW Flanders





Rockstar Wayne Coyne is also a visual artist and his immersive multimedia installation King's Mouth is making a stop at PNCA's 511 Gallery. Is psychedlia enough? Probably... since the spectacular happenings at The Flaming Lips shows are in many ways their signature it would be interesting to explore the aesthetic in a gallery.

King's Mouth | November 2 - January 6, 2018
First Thursday: November 2, 6:00-8:00PM
PNCA
511 NW Broadway

Read More
Posted by Jeff Jahn on November 02, 2017 at 15:18 | Comments (0)
---
End of October links
Hyperallergic looks at the Istanbul Biennial... exploring what makes a good neighbor (in the Middle east, ugh). Interesting how the smaller biennials seem to get how art needs to relate to the unspoken things that grease the wheels of our world. The work itself?... a tad too illustrative and reliant on cues that it is contemporary art, but I'm not expecting bold moves.

Most any intellectual worthy of the word has found Artforum of the past 20+ years to be a an avoidable style guide for looking like the boorish art inteligencia... and should applaud that the magazine is vowing to turn over a new leaf after its former head stepped down in scandal. Now David Velasco is the new Editor in Chief. Congrats to David who has contributed to PORT in the past!

...(more)
Read More
Posted by Jeff Jahn on October 31, 2017 at 19:39 | Comments (0)
---