Artist Opportunities
It is a busy time of year so it is the perfect time to capitalize on some of those opportunities:

Houseguest is an exciting new initiative for bringing art interventions into Portland's Pioneer Courthouse Square (aka Portland's living room). It comes with a $20,000 stipend. Nice to see some considered site specificity being addressed for a change in our public art... rather quirk without context. Deadline: May 1st 2016

Is your work concerned with silence, awareness or existence? Then check out this themed residency in Finland. Deadline: April 29, 2016

The City of Seattle has put out a call for portable works. Deadline: June 7

The 12th annual Art in Odd places festival in New York City this year has a theme of race. Deadline: May 8th
Read More
Posted by Jeff Jahn on April 27, 2016 at 14:40 | Comments (0)
---
Monday Links
An artist in London sends the gallery staff on vacation.

Though the installations for Megacities Asia are LARGE I'm not that convinced by most of them. Still it is good that they are utilizing the museum in nonstandard ways... most museums could be better about thinking of themselves as habitats for art rather than formal galleries.

San Francisco's art scene evolves at the top end with the new SFMOMA... while still out of the affordability range of most artists. That is a problem and though Portland is feeling pressure compared to other major West Coast cities we are still more affordable. Some interesting things could be done and I'm working on a think piece about this... to me a healthy arts ecosystem has room at all levels. San Fran is a place millionaires feel squeezed and many are decamping to Portland. Interesting how this will play out but one wonders if San Fran is just becoming a collection of itself? Seattle has struggled with to a much lesser degree and is still a city full of serious artists and among artists there is an international exchange zone between Vancouver BC going to to Seattle, Portland and then San Francisco.... sometimes LA. I'd like to see more West Coast co-curiosity?

The Met has been stumbling in its expansion but MoMA has Geffen's 100M gift... not certain if either will improve the institutions but they will "grow". Is growth ultimately the true measure of success? Seems like the Met could win simply by being a better/smarter patron to artists rather than simply building spaces with little intention? Growth for growth's sake just creates new problems.
Read More
Posted by Jeff Jahn on April 25, 2016 at 12:46 | Comments (0)
---
PICA has new 16,000ft home

PICA's 16,000 sq ft new HQ at 15 NE Hancock

Exciting news, PICA has a new 16,000 sq ft permanent home at 15 NE Hancock thanks to help from the Calligram Foundation. The architect will be Holst. Location wise it is just a few blocks from both the Rose Quarter and the main portion of N. Williams Avenue's district around Cook street. This will certainly be Northeast Portland's cultural anchor.

...(more including multiple interior images)
Read More
Posted by Jeff Jahn on April 21, 2016 at 10:45 | Comments (0)
---
Tentative labor agreement at PNCA
The interim PNCA President Casey Mills regarding the ongoing labor protests, which are cancelled for today:

"A tentative agreement has been reached regarding the recent protests on campus. That agreement should be finalized today and implemented over the next two weeks. More details will follow as the agreement is implemented.

In the meantime, let's celebrate one of the great events of the year at PNCA: Focus Week. Join me in going to as many events as you can to support our students and faculty.

John Casey Mills"

This is a good development. Hopefully, they have come with something innovative that will be a longstanding template for all higher education regarding adjuncts? The system is very broken. I have friends both on the PNCA board and adjuncts affected. In knowing both as I do if anyone can come up with solutions, they can.
Read More
Posted by Jeff Jahn on April 21, 2016 at 10:38 | Comments (0)
---
Rowland Ricketts talk


As part of Portland Design Week the MFA AC+D Studio is presenting a talk by Rowland Ricketts tomorrow. Trained in indigo farming and dyeing in Japan, Rickett's textile based work combines three things of enduring aesthetic interest, the color blue as mediated by texture and revealed through light.

Rowland Ricketts Lecture | April 20, 6:30PM 2016
MFA Applied Craft + Design Studios
421 NE 10th Ave

Read More
Posted by Jeff Jahn on April 19, 2016 at 16:34 | Comments (0)
---
Dispute Links
There were labor protests today at PNCA regarding treatment of adjuncts and fallout from the move to the 511 building. I'm going to take a balanced approach to this... adjuncts in most higher education institutions are simply not compensated enough and it makes sense that a progressive city like Portland would be a place this question of fairness is addressed. It also shows how much Tom Manley meant to the school by keeping things together and how crucial his replacement will be. It also reiterates why the Museum of Contemporary Craft closure was inevitable (some of the adjuncts not renewed were extremely critical of the closure and took rather personal shots at the administration, so some of this should not be a surprise... others like Nan Curtis are pretty much PNCA personified so losing her seems to be a squandering of institutional continuity [Curtis was once the head of the sculpture department and founder/curator of the Feldman Gallery] others were simply very experienced educators). What I see is this, building campaigns continuously forget to raise endowments for teaching positions and expanded programs and pain ensues. Ironically this is exactly what got the Museum of Contemporary Craft in trouble in the first place. The only solution is what I call the Ferriso strategy (after PAM's Director who insists on endowments to support programs and positions, not a new idea but very stabilizing). Handled the right way this could make PNCA and Portland stronger, but this is difficult when both sides harshly typecast each other when in fact both sides have their backs against different but valid financial walls. Solution, raise endowments, review allocations and or size accordingly but the best way is to take the ethical high ground and not demonize each other personally (despite being Portland's toughest critical voice I never do that). Right now things are in the Mea culpa finger pointing phase and some moderate PNCA voices are feeling unwelcome in either camp. Another idea, what if the sales from the MoCC space added to an endowment for adjuncts? That would be a radical change, no school does that and I doubt they would consider it.

Knoedler director breaks her silence over forgery scandal.

Labor protests over the Guggenheim are set to resume. So it isn't just an Arab Spring... it it an uprising of ethics in the visual arts? hmmm...

Warhol theft isn't exactly the headline grabber that is being shilled to the generalist media. It is why we need specialists covering these things... we have understanding of scope and scale that a jack of all trades wont (even a cultural jack of all trades).
Read More
Posted by Jeff Jahn on April 18, 2016 at 10:08 | Comments (0)
---
Habitats 2016 at the U of O Portland

Video still from "God's Eye View" by Adam Simmons, commissioned for Habitats April 14 - May 14 (2016)

As I've mentioned before I have been working on another enormous multimedia/intellectually demanding project and the time has come to let PORT readers and everyone else know. I've been helping with the U of O's 6th annual What Is? conference titled What Is? Media and co-curating the interwoven exhibition Habitats featuring feminist/artificial intelligence art pioneer Lynn Hershman Leeson (who will speak at PAM on the 15th). Check out the official Habitats page for the full list of artists. Yes, this is at the U of O in Portland and the exhibition is free to everyone, conference attendance not required.

The conference itself has a tremendous lineup with speakers from MIT, The New York Times, Oxford and Stanford etc. Panels will be of interest to any intellectual interested in; gender, materiality, technologies, curation (I'm a participant my presentation is some of my best writing), literacies, cinema, nutrition, pornography and installation art.

Habitats is an installation art heavy multi-media exploration of media (in the broadest definition)as a habitat. Portland hasn't seen a large group show like this in a long time and it features; virtual reality, architecture, drones, proposed hybridized human organs, artificial intelligence, hacked video games, honey bees, wolf packs and more. It opens on Thursday April 14th at 7:00 at the University of Oregon's Portland campus beneath the Made in Oregon sign.

PR Statement: "The exhibition emerges at the University of Oregon in Portland's Light Court Commons, in collaboration with the WHITE BOX Gallery, and the Library & Learning Commons. HABITATS has been organized in conjunction with the sixth annual WHAT IS...? Conference-Experience on the themes of medium and media. The question, WHAT IS MEDIA? will have many answers and illicit even more questions, but curators, Jeremy Swartz, Jeff Jahn, and Cris Moss, expect that this participatory experience will engage artist-artifact-audience as a process of meaningful discourse. As such, art is a medium of communication, and communication is a medium--or environment--of art. These artists have cultivated their idiomatic hives/swarms/flocks/packs, and their mediums are enacted as HABITATS."



Habitats (installation view), Styrobot (bg) Michael Salter, Alvarium (fg) Laura Fritz

...(more, with images of work in the exhibition)
Read More
Posted by Jeff Jahn on April 09, 2016 at 12:00 | Comments (0)
---
First Thursday Picks April 2016
Well this First Thursday is a hot one, here are some of the coolest shows to check out. Here are my picks:



James Rosenquist at PNCA

James Rosenquist is a living legend... his pop art works took the melange of British pop artists like Richard Hamilton and gave it a cleaner, sleeker more muscle car meets slick advertising sheen that likely paved the way towards minimalism but it also reflected the state of advertising imagery at the time (Hamilton, Johns even Rauschenberg nearly always come off as more more nostalgic, whereas Rosenquist feels immediate). You absolutely must check out his Lifetime Achievement Award Exhibition: James Rosenquist at PNCA's 511 building, drawn from Jordan Schnitzer's collection. Lots of other interesting exhibitions happening at PNCA too so I'd hit 511 NW Broadway for sure.

Lifetime Achievement Award Exhibition: James Rosenquist | March 30 - ?
First Thursday: April 7, 6:00-8:00PM
PNCA (511 Gallery)
511 NW Broadway



...(more)
Read More
Posted by Jeff Jahn on April 07, 2016 at 13:38 | Comments (0)
---
Some thoughts on the late Rick Bartow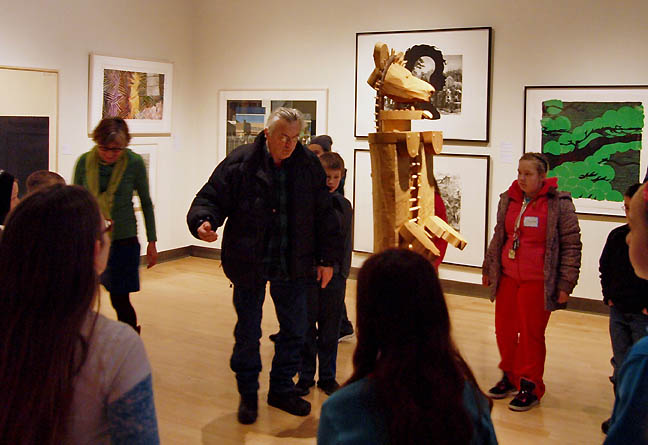 Rick Bartow telling stories and sharing wisdom with youth at Missoula Art Museum

We are deeply saddened to report that Rick Bartow passed away yesterday April 2nd. Based in Newport Oregon Rick had grown into the role of the sage, wise old man and as he'd tell you he went about this the hard way. His zootrophical sculptures and 2D works revealed this. In particular his paintings and drawings of birds seemed to speak of the fragility and mortality of life while his bear and wolf sculptures spoke of a kind of continuity in existence.... (more)
Read More
Posted by Jeff Jahn on April 03, 2016 at 12:03 | Comments (0)
---
Interview with Wengechi Mutu
Hailing from Kenya but studied in the United States, Wengechi Mutu is internationally renowned for merging anthropology, interwoven traditions and surrealism through experience as a different often more empathetic approach to the visual representation of women. Recently, she sat down with PORT's Victor Maldonado to discuss her exhibition The Human Hybrid at PNCA, the inaugural show of the new Jordan D. Schnitzer Exhibition and Visiting Artist Lecture Series.



Victor Maldonado and Wengechi Mutu

In a relaxed setting Mutu and Maldonado two sat down, talked shop and explored how, myths, belief systems and the way art history is coming around to the methodologies that cultural historians not tied to the art market have accepted for many decades. Watching them I was struck by the lack of sophist ideologies at play even when discussing old hierarchies like Picasso and established sculptural traditions, The conversation has been edited for clarity. - jeff jahn

Victor Maldonado: How did you find your installation of your exhibition; The Human Hybrid?

Wengechi Mutu: Oh, I love it. Yeah, it's beautifully done. It is a small, elegant show and its serendipitous that this collector happens to have almost all of my prints. There are a couple of things he doesn't have but it's wonderful.

V: Walking through the exhibit with different people one of the things that kept coming up was, "what is it like for you for these works to come together in this way?"

W: It's very satisfying. I mean, I've been making the work that you see as you walk in on the left... medical illustrations, essentially the histology series was made in 2005 on an actual Victorian print, these twelve different gynecological diseases and issues with the female reproductive organ. So, that whole moment is, you know, ten years ago, so it's good to see this work living, breathing, looking better than when I first made it.

V: It has a lot of impact?

W: It has a lot of impact, so that's always really good, but I think what is also important to me is that there is this kind of consistency, that I've been exploring a certain area of thought and interest in terms of material and subject matter. I mean, it holds together really well. The most recent one is a bronze... (more)
Read More
Posted by Victor Maldonado on March 31, 2016 at 23:10 | Comments (0)
---
Keeping up with links
I've been very busy on another major multi-media exhibition and scholarly conference that we should be announcing very soon (it is next month). PORT currently has 1 review and 2 major interviews in the works that we hope to drop on you soon. Till then here are some links:

Portland's Nathaniel Thayer Moss took part in Meow Wolf's newest extravaganza and even notched some pictures in the New York Times Magazine. It is this sort of artist driven pandemonium that makes most institutional biennial/survey attempts seem like stale ingraciatory exercises executed more for the institution than the health of an art ecosystem. back in the aughts Dave Hickey and Robert Storr were able to curate relevant things at Site Santa Fe by letting the work fuel and somewhat direct a probing intellectual premise. Lately, where most every institution fouls up is by trying to let the premise... or "we followed the process" be the guide. Arch-meh copout pseudo curiosity, and yeah my upcoming project follows that advice... the artists are not just illustrating an idea. Instead, the idea came after we chose the artists and their interests framed the intellectual scaffolding. Meow Wolf tropes to pay attention to "Mystery" and "Fantastical" artists who generate the unknown should be on everyone's radar and Portland is full of them and it isnt just a Surrealism/Dada rehash... there is a lot of design as a disruption of the reality going on. When reality yields a presidential race like this one one can see why artists are creating a parallel universe.

But I do like some places like London still parse how and why certain artists are chosen... for example the new Hepworth Sculpture Prize. Unlike Oregon's prizes, which seem to be mostly illustrative doteage on unchallenged cliches ... (more)
Read More
Posted by Jeff Jahn on March 22, 2016 at 22:00 | Comments (0)
---
Ruth Gruber retrospective at OJMCHE


For those who looking for something beyond the standard MFA puppy mill art (self-serving research and drawings of crystals with a couple pieces of detritus stacked upon each other in white room) this traveling survey of groundbreaking photographer and journalist Ruth Gruber will absolutely blow your mind. She was the world's youngest PHD in the 1930's and her intense curiosity lead her to witness the rise of Hitler (she got within feet of him at a rally... a Jewish girl with epic Khutspah). She was also the first correspondent permissioned to travel throughout the Soviet Arctic and Siberian gulag from 1934–35. Later, her coverage of the Holocaust and its survivors were instrumental in the forming of Israeli statehood. She was an important early influence for me at age 3 or so along with Thor Heyerdahl (I was very precocious and needed role models).


Ahead of Time Trailer

The associated documentary film has won numerous awards as well. This is a must see historical show that the International Photography Center curator Maya Benton has vowed will tour for as long as Ruth Lives, Gruber is 104. I Love that and her photographs have a philosophical sensitivity and empathy that is rare at any time. This is a master class in true intelligence and gives me hope for humanity. It is also incredibly relevant with so many refugee situations throughout the world.

Ruth Gruber: Photojournalist | March 13 - June 13
Opening Reception: March 13 with Film screenings at 12:00 and 2:00
Film screenings Friday at 2:00
Oregon Jewish Museum and Center for Holocaust Education
1953 NW Kearney St.
Read More
Posted by Jeff Jahn on March 12, 2016 at 14:21 | Comments (0)
---