Weekend Art Criticism
Art criticism is becoming rarer and rarer because most outlets dont take the time to develop space and expectations for strong critical voices. PORT turns 10 June 1 and we have always taken the long view with the immediate with a grain of salt.

Roberta Smith reviews Louise Nevelson... it means something more because the NY Times has critics like Smith. Instead of merely announcing the show she givesa sense of where Nevelson has stood and why. If it weren't coming from a critic with experience it would sound catty but in actuality it reveals how popular attitudes change... critics cboth surf those waves and disrupt them.

Daily Serving and Arts Practical are merging with CCA. I have mixed feelings about the need for art writing and criticism remaining independent of large art institutions... is it just an internet SEO grab? That said it is certainly very difficult to fund arts writing of all sorts. PORT tuns 10 in June and we abide by a very specific code... different than journalism. I think of it as a critics code because journalism and criticism are different.

The big news on Friday for Portland's art scene was that Richard Speer will be stepping down as the WWeek's Visual Arts Critic in March (he will be doing a 13 year look back as his last harrah. The thing that most misunderstand is the way a critic idiomatically and personally covers a beat month after month as a kind of public/personal interlocutor. True criticism is developed as a unique perspective idiomatic to that process, not as someone who simply regurgitates an artist's statement or press release with a little more vocabulary. That is what Richard always brought, an honest opinion that came from going to the shows. The bigger question will be if the WWeek will actually replace him with another person dedicated to that beat? Will it just be an occasional freelancer without the experience and context? What's more criticism and journalism are not always an easy fit and a lot of internet based arts writing is geared towards ingratiating itself with the community but I liken that creating a farmed arts community merely seeking "attention" rather than being tested in a critical process where critics act as charismatic predators that thin out the weaker ideas... not all art is the same and if Richard disliked something you would know about it. He will still write for other publications but the question is will the WWeek.
Read More
Posted by Jeff Jahn on February 28, 2015 at 10:38 | Comments (0)
---
Populist Visionaries: Finster and Abernathy

Howard Finster, Landscape with Jewls (1990) Collection of Peter Buck at PMOMA

This February two solo shows in Portland seem to capture the current zeitgeist of the city and beyond. The micro survey of folk art icon Howard Finster, Space Is My Future at the Portland Museum of Modern Art and Tori Abernathy's Make Yourself at Home at HQ Objective both offer themselves as generous hosts with wildly divergent evangelistic/activist zeal that question the status quo. Though completely different these two exhibitions are tempered with a well-intentioned goal of sharing information for the improvement of the human race, something rarely seen in art exhibitions, which tend to be more abstruse in their aims... (more)



Tori Abernathy, Make Yourself at Home (detail) at HQ Objective
Read More
Posted by Jeff Jahn on February 26, 2015 at 13:11 | Comments (0)
---
Tuesday curatorial links
David Salle discusses the much disliked The Forever Now at MoMA. He is right that forever and now are two terrible words in show titles but I still feel that much of the ire stems from the use of "Atemporal". Look, painters are always loosely using the history of painting in paintings... it isn't new and it isn't special to now. The Great drummer Buddy Rich said it best, "everyone borrows, the great ones steal." Of the whole lot I think Mark Grotjahn has something going on as do Mehretu and Sillman (where is Tomma Abts?).... many of the others, not so much.

Reports for the New Museum's under 35 triennial are filtering in here and there. These massive group shows are almost always inherently disappointing but the focus on non commodity zeitgeist art makes sense. Unless you can take viewers a little off balance, instead of what they are familiar/comfortable with they fail. Art isn't for understanding what you know, it is for experiencing aspects of what you hadn't considered. Though it is true that the way things are installed become even more important... a digitally connected world makes everything available instantly so the way art venues present things thoughtfully has become an ever more valued respite. I call it, "a considered zone," where art is given the space and context to contrast with the way we usually take in information and experiences. Having a guest curator makes it fresh but it also makes it hard to install well or feel like some internet feed but I think the New Museum got something right here, a sense of discovery.

OPB spoke to 4 of the many voices in regards to the Portland Art Museum's next Modern and Contemporary Curator. The real trick will be finding .... (more)
Read More
Posted by Jeff Jahn on February 24, 2015 at 11:22 | Comments (0)
---
Opportunities
Marie Watt is juror for the 2015 Artworks NW, deadline 3/6/15 I'm not wild about the entry fee (neither is Watt)... to me it is better than local artist auctions because it doesn't devalue and dilute the market of the participating artists like those do.

Similarly, you have a few more days to apply for the Bellingham National juried by Scott Lawrimore. They have extended the deadline on this and Scott has a good eye and progressive tastes. Deadline 2/22/15

RACC's deadline for Career Opportunity Grants is 4/1/15

Last but not least are the Hallie Ford Fellowships, deadline 3/5/15 They haven't been the cutting edge awards many hoped they would be... not a lot of new media or installation work but a few like Heidi Schwegler, Bruce Conkle and Mike Bray have bucked that trend. So far the winners tend to be men and/or those who very obviously work with their hands to paint or sculpt in traditional materials. It is at odds with the stated aim to support artists that "furthers the conversation of contemporary art in the 21st century." That should mean 21st century strategies and materials and a certain cutting edge but hasn't so much.
Read More
Posted by Jeff Jahn on February 19, 2015 at 12:21 | Comments (0)
---
Vicky Lynn Wilson's Era at Alexander Gallery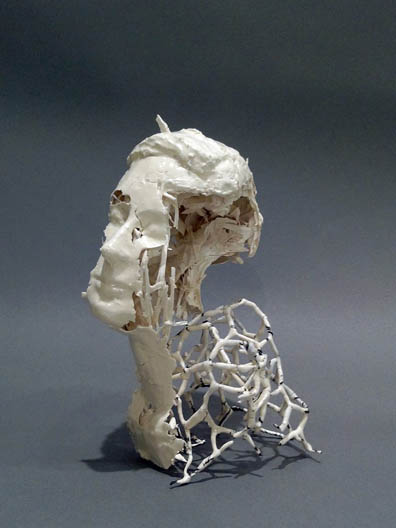 Vicky Lynn Wilson at CCC

Vicky Lynn Wilson is one of those artists we here at PORT track. Partially, it is because she always puts such exhaustive effort into her exhibitions. Her previous Cumulus was a tour de force so an exhibition tracing her milestone of turning 40 plus a look back at her transition from art student to professor called Era should be worth the trip to Oregon City (but its only open during the week but contact them to see if something can be done: kates(at)clackamas.edu). Wilson has always effectively mined her own life and material experiences and the Alexander Gallery is one of the nicest in the state (wish it were programmed accordingly with the same rigor/vigor/hours as say the Archer Gallery because it is a great space).

ERA | February 17 - March 19
Opening & Talk: Thursday, February 19th, 12PM
Alexander Gallery | Gallery Hours are 9-5 Monday-Friday
Clackamas Community College (Niemeyer Center for the Performing Arts)
19600 Molalla Avenue, Oregon City
Read More
Posted by Jeff Jahn on February 16, 2015 at 22:16 | Comments (0)
---
Friday Links
Christopher Knight on low tech frottage art at the Hammer.

Lucy Lippard's advice for arts writers. I think being a true critic is important though...

Anish Kapoor's black whirlpool is interesting though I dont like the railing.
Read More
Posted by Jeff Jahn on February 13, 2015 at 14:15 | Comments (0)
---
Midweek doings

Area view Jeffrey Thomas Fine Art's inaugural show (photo Jeff Jahn)

We broke the story a few weeks ago but tonight marks the return of one of the gallerists who started First Thursday, Jeffrey Thomas. He's charmingly bemused the unveiling isn't ON First Thursday but that hardly matters, the exhibition shows off Jeffrey's zen tinged tastes brought back from his days as a gallerist in SOHO and the Portland branch of Jamison Thomas, which was one of the first Pearl District spaces. PDX Contemporary and Froelick (now 20 years old) both learned the trade at the Jamison Thomas Gallery. His background simply makes him different than any other gallerist in the Northwest, it shaped him but it has also given him a tremendous amount of perspective that being out of the game for 20 years can give you. If he hadn't been a consistent part of the art scene here this would be a massively jarring re-introduction... but to many of us it wasn't an if but "when" situation.

The space is a nicely proportioned white box and the inaugural show The Sum Of Its Parts - Part 1 consists of few area ringers like Mary Henry, Brain Borello, Sean Healy, Laura Fritz and James Lavadour. There are comparative newcomers as well like Ben Buswell and Brad Mildrexler (among others) as well as former Jamison Thomas artists Cyrilla Mozenter and Heather Hutchinson.
The other very interesting aspect of this are the open racks of Murdock Collections in back with literally hundreds of interesting objects and art, at the preview last night it proved how an existing business can have new life brought by the traffic that Jeffrey's new gallery brings.

The Sum Of Its Parts 1 | February 11 - March 21
Opening Reception: February 11 6-9PM
Jeffrey Thomas Fine Art
2219 NW Raliegh




Aly Khalifa

On Thursday the talk by Aly Kalifa looks like a very interesting talk for designers and entrepreneurs.

"Aly Khalifa is design entrepreneur that is addicted to inventive culture. He has specialized in innovation development and launched products for some of the most exciting sports brands in the world. Trained as both an engineer and a designer, Aly has traveled extensively for 19 years to manufacture sporting goods design and technologies. His collaborations have garnered more than 16 patents, been nominated for a Grammy Award and exhibited in the Louvre."

Aly is the co-founder of Designbox, a multi-disciplinary workspace of creative professionals. He is also the founder and leader of SPARKcon, the nation's largest open source festival that promotes local creative culture.
Read More
Posted by Jeff Jahn on February 11, 2015 at 12:15 | Comments (0)
---
Monday Links
Artcritical does an critic's roundtable on the much maligned The Forever Now painting exhibition at MoMA. Generally I think it is the lack of these sorts of polymorphous discussions amongst critics that has been keeping galleries and curators from doing more interesting current painting shows. The thing with painting is it dies when it accepts too many congratulatory platitudes. Abstract paining needs to be contested territory... not a safe haven that seeks to insulate itself from dissent.

The New Museum's 2015 Triennial looks like a winner already featuring the kind of challenging asymmetrically strategic work I've championed since I moved to Portland. It looks better than any major survey (even regional ones) that I've seen in a decade+. I still dislike the idea of post internet (or post anything for that matter, because it packages the idea before it is explored) but the sense of an entropic digital universe that reveals the darker aspects of the real world is fantastic. What is important is the way it approaches the unease of the age... something everyone from Manet to Pollock and Hirst then Forcefield have done. The lack of abstract painting seems to be blowback against zombie formalism and the market in particular. Basically, artists who make work that jams the prevailing version of reality create space for the viewers to develop different angle of contemplation. That is what art is supposed to do, not simply flatter the rich or perpetuate an obstruse career.

I was wondering when an artist would really take on the Cosby scandal... it is very interesting that it is being done by a High School student... but man, you just can't unsee this once you see it. It is also interesting how it immediately went viral last week then an exhibition was announced. Not surprising, just interesting.

Though many find cellphone photographers an annoyance at museums I embrace the idea. It is a great way for people to internalize and personalize their experience with art but the selfie stick does constitute a danger to the art.
Read More
Posted by Jeff Jahn on February 09, 2015 at 10:32 | Comments (0)
---
Italian Style in Portland


Italian Style: Fashion Since 1945 opens today at the Portland Art Museum. I can't tell you how many times longtime Portlanders have expressed surprise at this show... Portland and fashion? Yet it is no secret that Portland has changed. Now there is a tight knit and respected clothing design scene here and design of all types is one of the major new economic drivers of this hip yet not following anybody else city. The subject appeals to Portland on numerous levels. There's the obvious design connection, but it is also the way fashion is a way to express optimism on a personal meets community level. Portland gets that. Then there is the strong Italian influence you can find in our cafe culture, espresso anyone? Lastly, there is the museum itself with its Belluschi designed wing where the exhibition begins. The travertine marble floors and palazzo style arcade of the Schnitzer Atrium didn't need any Italianification. The show itself is exquisite. My personal favorite being Mila Schon's gown for Jaqueline Kennedy for Truman Capote's Black and White Ball. It is all here, Marucelli, Gucci, Versace, Dolce and Gabana, Prada... there is even a kitty sweater. A room of Portland designers with Italian influence rounds out the exhibition.

There is some menswear including a suit for JFK and as local designer Elizabeth Dye mentioned at the preview fashion is really for everyone. Sure, some of this is ultra bespoke couture but a lot of it is an expression of handmade values and an expression of community pride.

A large portion of it is about comfort and style and the Ferrari in the lobby shows just how Italian Style as a mode caught on in the USA with much broader appeal than French fashion. The Ferrari induces constant Ferris Beuller references and references to Audrey Hepburn's old Hollywood glamour are everywhere. About the only thing missing is Bjorn Borg's icon 70's Fila sportswear (Nike and Adidas wouldn't be half of what they are today without Bjorn's immense appeal, Nike snagged McEnroe quickly), it is something Victoria and Albert Museum curator Sonnet Stanfill admitted, though she points it was added to the book for that reason. Still, the exhibition is stunning and a must see as an expression of community pride in design, craft and style. Portland might be relentlessly casual but it is a studied relentlessness that makes this contrasting approach so interesting to us.

Italian Style | February 7 - May 3
Curators's Talk: February 8, 2-3PM
Portland Art Museum
1219 SW Park

Read More
Posted by Jeff Jahn on February 07, 2015 at 12:30 | Comments (0)
---
First Thursday February 2015 Picks

My top pick for First Thursday this month has got to be Bill Will's Love Thy Neighbor at Nine Gallery because any artist who uses bread makers, tent poles and felt rockets to explore the absurdity of short range missile warfare simply cannot be ignored. The installation makes a lovely clicking noise too... is it a bomb or bread?

Love Thy Neighbor | February 5 - March 1
Opening Reception: February 5 6-9PM
Nine Gallery (inside Bluesky)
122 NW 8th




Joe Rudko's Flat Wave at PDX

Joe Rudko's latest show Picturesque mines the way the distortions of nostalgia turn once recognizable photographs into a kind of abstraction. In some ways it is a full circle and very zen way of recursively turning photography into an icon but somewhat in reverse of Rauschenberg and Warhol's methods. It also makes sense that his work graces the cover of Death Cab for Cutie's latest album, Kintsugi.

Picturesque | February 3- 28
Opening Reception: February 5, 6-8PM
PDX Contemporary
925 NW Flanders


...(more)
Read More
Posted by Jeff Jahn on February 05, 2015 at 16:33 | Comments (0)
---
Portland Building to be fixed

Portland Building (photo Jeff Jahn)

The Oregonian is reporting that the infamous and historically very important Portland Building is to be renovated instead of torn down. Now 100 million dollars might seem like a high price but it achieves two important objectives. First and most obviously, it improves a building whose interior is mostly terrible to work in... thereby correcting mistakes that were mostly the City of Portland's own fault, not the architect's as Brian Libby has detailed. Second, it is the most famous important bit of architecture in the Pacific Northwest, the first major Postmodern building. You might not like it but as a an arts and design city Portland simply cannot condone destroying what constitutes an important moment in world history. ... (more)
Read More
Posted by Jeff Jahn on February 03, 2015 at 13:04 | Comments (0)
---
Monday Links
The big art news to start off the week is the attribution of two bronzes to Michelangelo. It's a good old fashioned art historical detective story of works that have been hidden in plain sight. These are the only surviving bronzes that have been attributed to the artist and Jonathan Jones discusses the mechanisms that are bringing such discoveries to light.

Another fascinating read is Holland Carter on Ellsworth Kelly and Claude Monet. Honestly, I've always considered these two as kindred spirits because both used an empirical process of seeing. Monet painted haystacks repeatedly in varying light conditions and Kelly is hugely influenced by John James Audubon's observational process of approaching nature in the field. Both artist processed this empiricism with aesthetics to distill the presence of the phenomenon they observed. Or to make an ever simpler statement both artists left the studio to find the source material for their art.
Read More
Posted by Jeff Jahn on February 02, 2015 at 12:58 | Comments (0)
---