JSMOA's Crimson Cube at WSU

the new "Crimson Cube" at WSU (photo Bob Hubner)

A little over a week ago I was fortunate to catch the opening of the new Jordan Schnitzer Museum of Art at Washington State University in Pullman. Nicknamed the "Crimson Cube" for the structure's exterior it gives students and other visitors a landmark to navigate by. It is a nice touch since so many other University art spaces are hard to find and seem tied only to art departments, which often have little pull on campus politically and makes the susceptible to cuts. No problem with that here because the cube is intentionally at the heart of things at WSU. 20 years ago this sort of reflective glass structure would have read as corporate but the cantilever that is subtly off other building's grid axis and the red color are distinctly more curious than an office tower's comportment. The overall effect is, "what is that?" and the JSMOA's comparative minimalism recalls David Chipperfield's excellent library in Des Moines. That curiosity prompt is a good place to start for any art museum and has its roots in Robert Smithson's mirrored displacement works without the specificity that Art has. That is left for inside.



The skies over the JSMOA influence how extroverted the building behaves and its branding is low key, prompting questions...



Press briefing in the Person(a) exhibition in the Harmon/Wright Gallery

...(more)
Read More
Posted by Jeff Jahn on April 18, 2018 at 9:00 | Comments (0)
---
Art People Links
Art people make the art world turn. Here are some to consider:

The new Director of the Met is Max Hollein. This isnt a surprise and it is a rare thing to not promote from within but it really had to happen. Can the museum regain its composure as a seat of expertise... a place where knowledge and experience is rewarded? Can the museum update itself without undermining its greatest strengths and integrity? It doesnt need to reinvent itself so much as reassert itself with tech. Most 1st tier museums really dont understand these things and dont have to but Hollein's predecessor opened pandora's box already. (*hint) All museums should be free of charge, especially with income inequality the way it is.

Richard Speer writes a touching memorial for author and Portland art collector Sandra Stone. She showed up at so many openings and was always engaged and involved. I'll miss her.

Meet Mitchell Algus, art dealer... trailblazer. Individuals who stick their necks out to create a climate of exceptional activity are rarely rewarded but they are crucial.
Read More
Posted by Jeff Jahn on April 10, 2018 at 16:09 | Comments (0)
---
Early April Links
Amid complexities of gentrification LA's 356 Mission will leave its space. This is no surprise but it shows how the art and real estate market can undermine contemporary art's moral position. There are ways to do this in a way that enhances the community rather than be seen as some colonizing situation. Considering the political climate in the USA we need to not pit these natural allies of artists and POC against each other.

Tyler Green does a podcast on the Fazal Sheikh survey currently at the Portland Art Museum. A Macarthur Fellow, Ive yet to catch this exhibition but it is on my must see list.

Italy's far right party wants to fascist party's old HQ into a museum? Museums in the USA are themselves at the heart of the class war debate but it looks like Italy is upping the stakes... The world is not a safe place, act accordingly.
Read More
Posted by Jeff Jahn on April 03, 2018 at 9:00 | Comments (0)
---
Hanakago: The Art of Bamboo and Flowers at Portland Japanese garden
Spring in Portland is incredibly dramatic and the latest exhibition Hanakago: The Art of Bamboo and Flowers at Portland's Japanese Garden is the perfect instrument to sharpen ones senses and appreciation for the season as life awakens around us. There is something about the dried and shaped bamboo among recently cut flowers that suggests the withered husks of life as vessels of contemplation, grace and virtues in life. Both the bamboo and flowers highlight both control and variation through respect. They are perceptual paths to awe and understanding. When the viewer is among these bamboo and flower objects... the weave, the intention and care catches the light and filters our perception towards the fragility that forms constructed in webs of respectful intention entail. We live in an age where consideration and grace can be on short supply so Hanakago is a refreshing respite.



A breeze from long ago, Chinkuunsai III (2012), all photos Jeff Jahn

Hanakago is comprised of an impressive array of bamboo baskets and art from Portland collector Peter Shinbach's collection. Many are further brought to life with the ikebana art of Mrs. Etsuho Kakihana and those who study with her...

...(more)
Read More
Posted by Jeff Jahn on March 24, 2018 at 22:01 | Comments (0)
---
Louise Bourgeois in Pendelton

Louise Bourgoise at Pendelton Center for the Arts

One of the best shows to see in the Pacific Northwest at the moment is the surprise appearance of Louise Bourgeois' work in the small western town Pendelton, mostly known for its rodeo and woolens. The Jordan Schnitzer Family Foundation continues to do good things by making important work available to audiences and places that wouldnt otherwise have access to it. I also found the Pendelton Center for the Arts with its excellent architecture, being a former Carnegie Library to be more than just another white box gallery space... it brings out an almost baroque aspect to Bourgeois' surreal imagery.

Bourgeois is incredibly topical right now with her focus on the the psychological positioning of women and judging from the very well attended opening last night its going down well in cowboy country where the crowd was more varied than anything I've ever seen considering the ages, backgrounds and ethnicities present. Pendelton itself has a long tradition with women breaking ground through its rodeo so I cant help but think the combo would have pleased her.

In particular the Crochet series of prints with their focus on knotwork, texture and routine... often evoking

... (more)
Read More
Posted by Jeff Jahn on March 17, 2018 at 12:29 | Comments (0)
---
Mid March Links
I'm polishing off a very long review of one of the best exhibitions in recent Portland memory. (Portland memory as a term... hmmm.) Till then here are some links in an eventful week.

The departure of Helen Molesworth from MoCA is the news of the week. Some have characterized this as institutional manspreading. That is simply too simplistic and I see something deeper underlying it... the growing intolerance of museums for strong curatorial voices. I loved her Kerry James Marshall and Catherine Opie shows last year. It is part of the whole war on expertise that is going on both the left and right of the political spectrum. Does being a woman factor into this?... of course it does (leaving her more exposed than a man) but this is more complicated than that. Paul Schimmel is no longer at MoCA either and he was a giant, also Alma Ruiz is gone (Molesworth reportedly was key in that). That constitutes a great hollowing of expertise... when I was growing up in the arts I looked up to curators like Schimmel... professionals who shook up assumptions with overwhelming experience, saavy and knowledge and they understood the artists. Molesworth was of that ilk, close to the artists and full of expertise in an era when curators seem to farm out their shows, subcontracting to those outside the museum with expertise they professionally do not want to risk acquiring. In the past museums had in house expertise... slippery slope and any curator that keeps a higher profile is sadly in peril. *Update: the LA Times comes to a similar conclusion somewhat reversing their initial assessment. Thing is this isn't just MOCA... the entire museum industry is pushing back at influential curators. I consider it a purge of expertise and the influence that comes with it. What got Molesworth into trouble was daring to go farther than the board's agenda. Solution... hire curators that make their ideas inspiring to their board (you dont get that without expertise and even more daring). Art as an "asset class" rather than an intellectual prompt is hurting museums in very obvious ways.

Matthew Collings takes on a very complicated Tacita Dean show with an equally complicated and tricky review. There arent many critics out there who can do this.

I like Hans Ulrich Obrist as a curator and he has good ideas, but AFC is right his lectures like a lot of his imitators in the drain the life from what is exciting about art. As someone who can speak well and with passion, I bemoan the dearth of it and I do see it as a way to lower the stakes, which is odd because the stake at this time are higher.

Does Dora Maar deserve more credit for Guernica? Well yes, but not as the author for the brilliant final work but as part of the brilliant ecosystem of thinking and aesthetics that went into it. In that sense, absolutely she was involved. Like Helen Frankenthaler to Greenberg, she's crucial and without her you dont get the breakthrough work. Overall, there is no singular artist and if we can look at the entire cadre that these great works require it will make are understanding of richer. There is just too much zero sum thinking.
Read More
Posted by Jeff Jahn on March 16, 2018 at 10:48 | Comments (0)
---
Early March Links
Internet artists infiltrate MoMA with a virtual reality exhibition among the Jackson Pollocks. Is virtual reality infiltration the new drip technique? nah... but it furthers the position of museums in the crossfire. Currently major institutional curators seem to be less skilled than they were 20 years ago and act simply middlemen who hire those with more expertise for specific shows. The problem with that is that museums require expertise to legitimize themselves and artists see a schism in this gig economy phenomenon. Why buy into something when you bypass the mid-level managers and exhibit directly on the internet or a VR overlay?

Team Gallery is done with art fairs... why? Long story short, they feel terrible. For quite some time art fairs have been dealing from a marked deck and if you dont like how its stacked why participate? A lot of smaller to mid level galleries have closed up as galleries all together as a new consultant class has developed to work in a more hidden way. This even more shadowy art world isnt exactly an improvement but at least Team is retaking his own scene and remaining a gallery to visit and experience.

Mondian's heirs claim a museum has stolen the artist's work. That said I just love these 4 paintings shown in series.

Olafur Elliason's Reality Projector looks like a must see... (more)
Read More
Posted by Jeff Jahn on March 06, 2018 at 5:11 | Comments (0)
---
First Thursday Picks March 2018

Ma'at Mons (installation view at PDX Contemporary)

After the 2016 presidential election the constant stream of intolerance and hate has made it difficult for many artists to produce work (and have been collecting pitchforks and torches instead). Still, the mark of a true artist is they need not a vocational requirement to make art, its simply what they do. Storm Tharp is one of those artists and he has been busy. This work, provides the viewer room to breathe as well as vent... a series of large scale prints, it is very different from anything we have seen from him before, though the lumpy forms do evoke his sculpture... recalling the work of Morris Louis and Ellsworth Kelly it is surprisingly Apollonian.

Ma'at Mons | February 28 - March 31
First Thursday Reception: March 1, 6-8PM
PDX Contemporary
925 NW Flanders




Sadly it is the last show for Una gallery at the Everett Station lofts but they have provided a needed haven to see emerging POC and queer work. This last show Portland in Color is a fitting photo biography.

"Since the summer of 2017, Celeste Noche Photography has been collecting the stories and experiences of creatives of color living in Portland, through the photographic blog series Portland in Color. The project is simple and honest in nature, yet yields vulnerable and empowering portraits of artists actively creating and organizing in a town deemed the whitest city in America."

Portland in Color
First Thursday: March 1 6-10P
Una Gallery
328 NW Broadway #117




... (more)
Read More
Posted by Jeff Jahn on March 01, 2018 at 14:24 | Comments (0)
---
Travelogue look back at 2017
To describe 2017 as the most intense of years does not begin to do it justice. It was a year of upheavals... and the death and births of many things (my father and many others included). 2017 was also the year I logged the largest # of travel miles (all without leaving the USA or even visiting the East Coast from my West Coast base in Portland Oregon). Every time I turned around I was either unpacking or preparing for another sojourn. But now as 2018 is now solidly under way I'd like to revisit many of the most memorable things I saw and why... what is travel after all if you can't think back and take stock?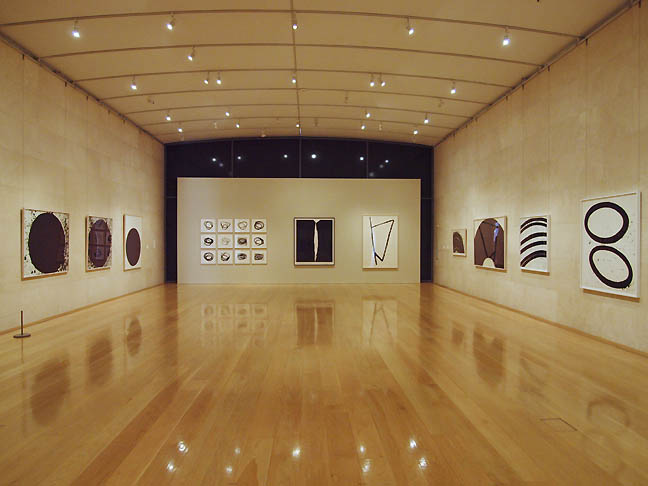 Richard Serra Prints at Nasher Sculpture Center, Dallas Texas

One of the very best things I saw was also one of the first. A Richard Serra print show at the Nasher Sculpture Center in Dallas. This was the first time 2D work has been displayed in this gallery designed specifically for sculpture. The image above shows just how powerful and ideal it was. Imagine an ivory colored cathedral festooned with black forms that acted almost like music notation on the page... (more)



Stephen Whisler, Walking the Bomb at the 2017 Treenial, Joshua Tree California

Later I visited Joshua Tree California for their Treenial weekend art festival....

The Kerry James Marshall Mastry exhibition at MoCA was extremely memorable.... (more)
We also took in the newly reopened Site Santa Fe designed by SHoP architects. Basically it no longer has the warehouse feel of the old Dave Hickey Beau Monde Biennial and has replaced it with a slicker experience. Its likely more functional... (more)
Read More
Posted by Jeff Jahn on February 28, 2018 at 9:36 | Comments (0)
---
Pertinent links
Jerry Saltz skewers the "woke" biennial. I agree with all of this (and am preparing a response, curatorially). To cut the bull... "liberal elites" still are smelling their own curatorial farts and the more radical segments of Portland's art scene all sneer at academicians and curators who use the word "woke". Despite these being very interesting times (too interesting) is this not a great period of institutional perceptual acuity... and the main problem is one of "chasing the parade." Strong curation in times like these can still follow "issues" but they need to curate against form to keep from coming off like pious careerists. Part of the problem is sytematic since curators have lost their backbone as directors need for "outrage mitigation" have supplanted much of the very pointed curatorial expertise that was in force until recently. Overall, the best ideas right now have deeper roots that are rife with tension, treason and a need to disagree together in the same room. The best ideas dont claim understanding and lack smugness... that pax curatora age is over but most major museums dont understand this. The parts of the art world who get annoyed with Jerry and other real critics miss the message... the art world is not the court illustrator for the liberal elite or an asset class. Art is not the pet of the rich. It is an instrument panel that measures various systems within human civilization... and a lot of things that have been red lining are being ignored (though some venues are wising up like the Art Institute of Chicago's Leigh Ledare show, hint "uncertainty" is the true subject of the day). This whole institutional dampening effect mitigates subtlety... we live in messy times so group shows like the New Museum's Triennial should be a heightened version of that mess... rather than a tip toe tap dance through the tulips. In other words... toughen up and buckle up, this is a bumpy ride age... yet somehow museums are in full ingratiation mode. Curators used to be like great surfers, good at reading and riding risk like the big surf that breaks on the beach. Lately they have become more like lawyers (risk mitigators) concerned with career (hopefully becoming directors) over culture. True some directors are excellent curators but its a hard edged to keep sharp. Museums everywhere are in trouble as the front lines between the haves and have nots and by and large they have an attitude problem... irrespective of them being left or right leaning politically. Overall, it is good that the New Museum engages in this exercise but it is in danger of becoming just like the Whitney Biennial... something that serves an institution more than the culture it supposedly serves. Hyperallegic presents another view... with photos.

The single brightest human being I have ever encountered is Robert Irwin and he has new work up in LA.

Overall, I agree that institutional curators really are not where the action is at anymore... it just seems like a broken system. Independent ones can be a force still though. In particular Id argue that artist/curator/critic combos have always held the greatest fulcrum of leverage on culture. Artists like Kandinsky, Judd, Murakami etc... aren't just measured by their own works. They articulated and presented things that reach farther while their works ground and reaffirm their principles. Its kinda like having a legislature (curatorial) , court (criticiism) and executive branches (artist). Most major institutions have difficulty with multi-modal individuals in the arts and just deal with them 1 element at a time... credit to the Portland Art Museum for doing the John Yeon show last year, which was decent. The David Bowie show that was touring was even better... hopefully I'll get to see it in Brooklyn but I have a feeling it will annoy me, but museum shows arent supposed to be about satisfaction and they arent supposed to be the earliest of adopters. I do know that calling Bowie "woke" seems extra trite and laughable.
Read More
Posted by Jeff Jahn on February 21, 2018 at 9:40 | Comments (0)
---
Josh Smith at Northview Gallery

Joshua W. Smith at PCC's Northview Gallery

I've always liked Joshua W. Smith's work as one of the best artists to graduate from OCAC he always seemed to walk the tightrope of design and art without getting hung up on the conventions of either one. He lives in LA now but his latest show, Every truth blocks another is a good time to catch up in one of the more interesting gallery spaces in Portland (if mid century brutalism is your thing, and it is definitely Josh's). Not certain if I buy the zero sum concept but that seems built in doesnt it? ... absolutely an appropriate subject at the moment.

Every truth blocks another | February 20 - March 25th
Talk then reception: Tuesday Feb. 20, 2 - 5pm
Northview Gallery (hours M-F 8am-4pm and Sat 11am - 4pm
PCC Sylvania (Communications Technology Building)
12000 SW 49th Ave.
Read More
Posted by Jeff Jahn on February 19, 2018 at 13:09 | Comments (0)
---
L&CC Faculty Exhibition 2018

Barely There (right), Jess Perlitz

I like how Lewis and Clark College doesn't just do some faceless group annual faculty exhibition. Instead, it puts a dual show and this year it features professors, Joel W. Fisher's Abridged Proof and Jess Perlitz's Forever washing itself exhibitions. Both seem to traffic in the unreliability of information so it makes sense to pair them. Having seen the show it counts as one of the best things to see this winter in Portland... well worth the trip.

Overall, I find this school's faculty intriguing because they always seem to consistently produce an interesting crop of students every year (along with OCAC), whereas it comes and goes with most of the others.

Abridged Proof and Forever washing itself | January 18 - March 18, 2018
Artist's reception: 5-7PM, February 13, 2018 Ronna and Eric Hoffman Gallery
Lewis & Clark
0615 S.W. Palatine Hill Road
Read More
Posted by Jeff Jahn on February 12, 2018 at 12:42 | Comments (0)
---