Josh Smith at Northview Gallery

Joshua W. Smith at PCC's Northview Gallery

I've always liked Joshua W. Smith's work as one of the best artists to graduate from OCAC he always seemed to walk the tightrope of design and art without getting hung up on the conventions of either one. He lives in LA now but his latest show, Every truth blocks another is a good time to catch up in one of the more interesting gallery spaces in Portland (if mid century brutalism is your thing, and it is definitely Josh's). Not certain if I buy the zero sum concept but that seems built in doesnt it? ... absolutely an appropriate subject at the moment.

Every truth blocks another | February 20 - March 25th
Talk then reception: Tuesday Feb. 20, 2 - 5pm
Northview Gallery (hours M-F 8am-4pm and Sat 11am - 4pm
PCC Sylvania (Communications Technology Building)
12000 SW 49th Ave.
Read More
Posted by Jeff Jahn on February 19, 2018 at 13:09 | Comments (0)
---
L&CC Faculty Exhibition 2018

Barely There (right), Jess Perlitz

I like how Lewis and Clark College doesn't just do some faceless group annual faculty exhibition. Instead, it puts a dual show and this year it features professors, Joel W. Fisher's Abridged Proof and Jess Perlitz's Forever washing itself exhibitions. Both seem to traffic in the unreliability of information so it makes sense to pair them. Having seen the show it counts as one of the best things to see this winter in Portland... well worth the trip.

Overall, I find this school's faculty intriguing because they always seem to consistently produce an interesting crop of students every year (along with OCAC), whereas it comes and goes with most of the others.

Abridged Proof and Forever washing itself | January 18 - March 18, 2018
Artist's reception: 5-7PM, February 13, 2018 Ronna and Eric Hoffman Gallery
Lewis & Clark
0615 S.W. Palatine Hill Road
Read More
Posted by Jeff Jahn on February 12, 2018 at 12:42 | Comments (0)
---
Early February Links
The Ellsworth Kelly Chapel is nearly complete... but it is silly to think of this as some sort of transcendence competition with Houston's Rothko Chapel. I love both artists and in many ways those two projects are fate to never be those artist's best works. Very important, yes... but I Love them as painters of rather portable things rather than site makers. That said... I will go see it.

Well the USA could use a Jasper Johns retrospective right now if it ever did, right?

Here is an interview with Mark Dion... wunderkammern never seem to go out of style in contemporary art. I have a lot of thoughts on this but mostly I think it is the discreet spatial experience viewers are already groomed for... you know, look in here for a second, its furniture so how bad can it be? Furniture comes with a lot of cues that most 1st worlders are comfortable with and by being discreet objects are a bit easier to sell/ship/store than many all out installation environments.

An architect has used Vanta Black for a pavilion at the current Winter Olympics. It is unique so makes sense that Anish Kapoor would want to secure it for his use only in art but its just a matter of time before very similar blacks become available so ultimately its more of a stunt gesture. In the past artists had to create their own paints so most colors were closely guarded proprietary secrets... which only makes this whole subject seem like a throwback.
Read More
Posted by Jeff Jahn on February 11, 2018 at 9:40 | Comments (0)
---
Hanakago at the Portland Japanese Garden


For my money the real super bowl this weekend is the Hanakago (flower basket) exhibition at the Portland Japanese Garden. It features bamboo basket masterpieces from Portland collector Peter Shinbach's bamboo art collection, further brought to life with the ikebana art of Mrs. Etsuho Kakihana. Kakihana is a master teacher of ikebana of the Saga Goryu School at Daikakuji, Kyoto. It is one of the oldest and most revered Buddhist Temples in Japan. I think it is important to remember there are things to be gained from 2 different things working together... if only the world could follow this modus operandi more, eh? The exhibition encourages a closer look in an age lacking much of that.

For a long time the Garden has arguably and consistently put on the strongest craft exhibitions in Portland (if not the West Coast) but what I love is how each exhibition are treated as living, iterative and evolving practices... like Jazz. Instead of some simple collector's vanity show the Garden's efforts are charged and expanded through the inclusion of flower art in the baskets.

I am not a football fan, and in contemporary art (and this is contemporary) this use of vessel and object has been of prime interest to so many artists like Eva Hesse, Anish Kapoor, Lee Ufan, Damien Hirst, Rachel Harrison and Michael Heizer. Locally MK Guth, Midori Hirose, Ellen George, Laura Fritz and so many others also focus on the display support as part of the object... an interrelated charge that goes beyond surface and support. It is often a delicate visual ecosystem that can be traced to Asian traditions that Brancusi then brought to modern art museums and furthered by Noguchi. hat I like is the way life animates art, it tells us that art history is still made in the present, besides what could be better than spend the super bowl in quiet contemplation?

Hanakago | February 3 - April 1, 2018
Portland Japanese Garden
611 SW Kingston Ave
Read More
Posted by Jeff Jahn on February 04, 2018 at 9:46 | Comments (0)
---
First Thursday February 2018 Picks

Robert Frank (installation view) at Bluesky

He's ultra influential and considered by many to be one of the fathers of street photography but Robert Frank's work is rarely seen because of the fragility and value of the work. To remedy this situation Frank and Gerhard Steidl conceived of a traveling exhibition of photos, books, and films. Rather than as ultra precious objects Frank's images are printed on sheets of newsprint and hung on the walls or from the ceiling. This is one not to be missed.

Robert Frank Books and Films 1947 - 2018 | January 4 - February 25
First Thursday Reception: January 4, 6-8PM
Blue Sky
122 NW 8th







Portland's Winter Light Festival at PNCA

Portland's Winter Lights Festival seems to get a little more serious every year. Some of it can be just eye candy spectacle for burners but some of the venues like PNCA are focused on the art... not just arty aspects of light. Portland is an installation art town though none of our festivals and institutions seems to make a point of featuring it... could the Light Festival be that venue some day? 24 different installations by artists are spread throughout the PNCA grounds.

Winter Lights Festival at PNCA | February 1-3 (6-9PM), 2018
First Thursday: February 1, 6:00-9:00PM
PNCA
511 NW Broadway



... (more)
Read More
Posted by Jeff Jahn on February 01, 2018 at 13:07 | Comments (0)
---
Last Chance: Wyeth family reunion at PAM

Andrew Wyeth, On The Edge (2001)

This weekend is your last chance to catch The Wyeths: Three Generations at the Portland Art Museum, which feels more like a family gathering than a museum survey of the Wyeths. Frankly, that is exactly what this is, a family reunion ...and it is very good thing. Whether you love Andrew Wyeth's bone ghostly landscapes or his masterful wisps of existential hair in hardscrabble Americana or not this exhibition extols a waspy New England generational presence, like a Thanksgiving Day rendezvous with all the familial dramas, humor and warmth simmering underneath. That said, I am an unrepentant Andrew Wyeth fan despite the work never really being couth in Greenbergian... then Artforum circles (a sign he was on to something) and I also grew up appreciating N.C Wyeth's illustrations. All of which contributed to a more fluid appreciation of visual culture that doesnt put artificial barriers up between graphic art and Art. As a family, the Wyeths cover the whole spectrum... but Andrew Wyeth is the great one and the reason there is a traveling exhibition of his family's work. There's a vitality in this filial arrangement. Patriarch N.C. Wyeth has a fantastical bent, Andrew's world is haunted and Jamie brings humor and nature's animus. True, this a lot of waspishness here in a time when all white male Newenglanders are reviled as a kind of LLBean clad Brahman class in the US socio-political landscape but I am a firm believer that no one be they Mexican, Jew, Irish, Italian, Nordic or Hmong should have to apologize for what they are and what their culture brings to the table. There are some truly marvelous works, especially the large Andrew Wyeths that are not behind glass, several N.C. Wyeth oil paintings that became book illustrations and a witty conclusion with Jamie Wyeth, whose painting of empty adirondack chairs sums it all up. Family, it is a thing...

The Wyeths: Three Generations | October 7 - January 28, 2018
Portland Art Museum
1219 SW Park Ave



Read More
Posted by Jeff Jahn on January 27, 2018 at 9:33 | Comments (0)
---
1st items of 2018
Earlier today, Nick Fish and the Portland City Council unveiled its preliminary working report on what the city could do to preserve and expand, "Affordable Arts Space in Portland," you can read it here. First of all, we've been calling for many of these things for more than a decade here, here, here and here. The thing is the art community now has City Hall's attention since Portland's identity as an cultural tourist destination is at risk to rising costs. So yes, a clearinghouse of spaces and incentives is crucial. I'm also glad the cultural liasson position is coming back to City Hall, I made use of it when we did the Donald Judd conference. The thing is the "corner" that Portland needs to turn isnt just about affordability. Technically, Portland cant roll itself back to the dirt cheap days. Instead, it needs to reframe this discussion not just as a return to affordability but as a more pro-active and assertive use of its support resources for cultural use. That means getting the resources (money, spaces, prestige awards and networking) into the right hands and for reasons that raise expectations. Portland is frankly terrible at being serious about support even when its clearly a big deal (think "Portland Polite" and "humble brag" rather than recognition of achievement). Instead, there is an infantilism around the discussion of cultural support. In fact, there is a kid's photo as the first image on the report. Culture creates serious careers, roles and spaces, why the kid photo? Also, of all the stake holders listed there is no active working artist advisory group and most in the visual arts scene dont know anything about this 2 year to date project. Frankly, that's like forming an action plan for getting resources to doctors without asking doctors what they need. Yes, other cities have done similar things, but Portland has some unique challenges and it will take local know how to make it effective in implementation (hint not the same old). Still, this is great news and I have been repairing a topical and very long think piece I hope to get published here soon. This new arts plan is is a needed step in the right direction but it needs to be reframed from "Affordability" to a one of distributing effective support for the brightest lights... because those are the people Portland needs to keep. Just supporting quirkiness isn't enough when resources get scarce and ever more crucial. Currently many outdated practices form barriers that have no place in 2018. February 15th will be the next time the Council meets on this and I'll have an article that goes far beyond the City Council's scope... though it is a crucial pies of the benign neglect policy the city has pursued until now. This is about Portland keeping its edge and cometitive advantage against other cities, that requires a few new moves that I'll get into later.


The Met is now Charging admission, especially for those who are visiting NYC and the critics at the New York times hate it. It smacks of elitist class warfare and puts the museum in the crosshairs of the massive income inequality issue. Not good, all major museums are trying to negotiate this issue and the Met just wiped out on this wave.

On the same topic, Hyperallergic interviews the Met's Director who tries very hard to do damage control... but it reminds me of some uncle caught in a nerf battle between 10 kids on Christmas morning.
Read More
Posted by Jeff Jahn on January 09, 2018 at 14:35 | Comments (0)
---
First Thursday January 2018 Picks

Robert Frank, Santa Fe - New Mexico, from the book The Americans

He's ultra influential and considered by many to be one of the father's of street photography but Robert Frank's work is rarely seen. To remedy this situation Frank and Gerhard Steidl concieved of a travelling exhibition of photos, books, and films. Rather than as ultra precious objects Frank's images are printed on sheets of newsprint and hung on the walls or from the ceiling. This is one not to be missed.

Robert Books and Films 1947 - 2018 | January 4 - February 25
First Thursday Reception: January 4, 6-8PM
Blue Sky
122 NW 8th


... (more)
Read More
Posted by Jeff Jahn on January 04, 2018 at 14:51 | Comments (0)
---
NTVTY VIII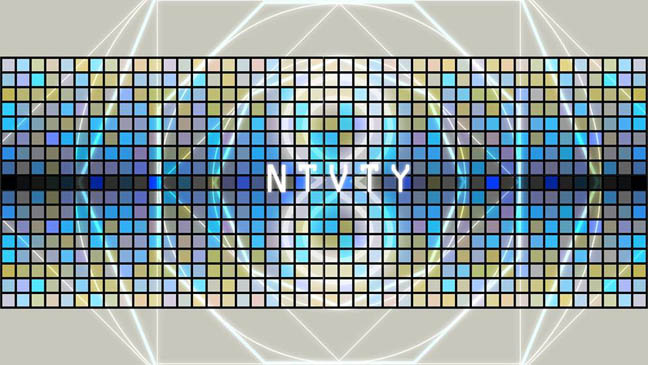 It is an annual tradition but XChurch's experimental NTVTY, a pan-media-dimensional holiday happening will have it's 8th and last iteration at this tiny church this weekend. Be there to know how Portland does its artiest of holiday events. Three nights only.

NTVTY VIII | December 23-25 @ 7:00PM
XHURCH
4550 NE 20th Ave
Read More
Posted by Jeff Jahn on December 22, 2017 at 16:56 | Comments (0)
---
Opening a third way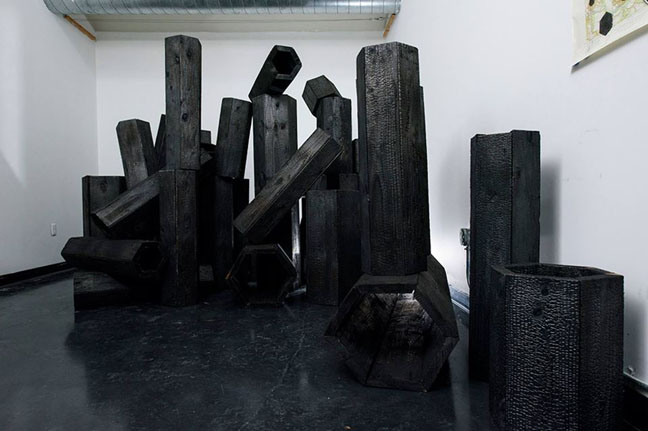 Forecasting Cascadia: metabolic architecture and climate change by Abigail Emiko Inoue Cox

It has been a brutal couple of years for Portland's alternative art spaces (with bright spots like Una, Grapefruits, C:3 and Indivisible) but we continue to add exciting new venues here and there. Thirdspace is the latest, featuring the work of Abigail Emiko Inoue Cox. Her installation Forecasting Cascadia: metabolic architecture and climate change comes right after yesterday's 4.0 earthquake so it has remarkable timing. She is interested in the intersection of ecology and design (a favorite subject of mine) and her use of carbonized wood forms recalls the forest fires and building boom of 2017 as well. Afterwards there will be a community discussion about opportunities for the space in the coming year. Let's hope the find a third way in these too binary times,

Launch | December 14 - January 20, 2018
Opening: December 14 | 6 - 7:30PM -ish
Introduction to the space with dir. Kalaija Mallery: 7:30PM
Roundtable discussion: 8:00-ish
Thirdspace
707 NE Broadway

Read More
Posted by Jeff Jahn on December 14, 2017 at 14:12 | Comments (0)
---
First Thursday Picks December 2017

Lorna Simpson, Wigs (Portfolio) 1994

From the collection of Jordan Schnitzer Blue Sky is concluding the Embodied: Asserting Self exhibition series with an exhibition of Lorna Simpson's Wigs. Focusing on the human obsession with hair as well as ties to self, family and society this is one of her best bodies of work and extremely topical today.

Lorna Simpson | December 6 - 31
First Thursday Reception: December 7, 6-8PM
Blue Sky
122 NW 8th




Focusing on the way female voices and contributions are constantly mitigated Caitlyn Clester has curated works by; Eden Gately, Kailyn Hooley, Emily Schwartz, Kalaija Mallery,Caitlyn Clester, Jaleesa Johnston, Kimmy Munoz, Anita Spaeth, Helen Hunter and BloC. I like the title of the show and it is certainly a topical subject.

Conceiling the Ambient Obscuring the Encompassing | December 7 - 15
First Thursday: December 7, 6:30-9:00PM
PNCA (in the commons)
511 NW Broadway

Read More
Posted by Jeff Jahn on December 07, 2017 at 13:27 | Comments (0)
---
Early December Stories
Brian Libby has expanded an in print article on the restoration Of Pietro Belluschi's Sutor house. It reminds me how Marylhurst University botched their restoration and move of their Belluschi by altering the hearth for inxeplicable reasons. The Sutor House was done right.

The Portland Art Museum will try once again to get approval for the Rothko Pavilion. I'm in favor of this plan despite the museum going with a very risk adverse design. Currently the museum campus is cut in half and disability access is an immense maze and I believe the expanded hours and greater access for pedestrians and bicyclists should be enough. My greater concerns is that the galleries be great spaces for looking at art and that the museum's design is so standard museum when in fact the space called for more creativity. Problem is both city hall and patrons at PAM are so conservative that that kind of groundbreaking design was not undertaken and the resulting back and forth between the community and PAM became fraught. PAM is sitting all of the civic and social faultlines. City Council meets at 2:00 Thursday.

The climate of moral revisionism and censorship is in full effect and calls to remove a Balthus at the Met are just the latest round. Look ... Art isnt supposed to illustrate moral ideals (which change over time). Instead art pulls at the loose threads that make up humanity and our world. Not all of those threads can be noble, that would be a great disservice and art can act as a lightning rod. The activities of individuals are somewhat different from their art but they are related and its that series of complications which gives some art its staying power. If it no longer stays over the long term then history has sorted things out. Politicians are elected, art isnt. Myself, I find Balthus distasteful and would relegate him to the storeroom but not because of a petition. the whole "wisdom of the crowd" idea misses the fact that such crowds usually lack wisdom. Still, perhaps tastes have changed... we no longer eat somewhat spoiled foods like the Romans did.
Read More
Posted by Jeff Jahn on December 06, 2017 at 16:38 | Comments (0)
---