First half of November links
I have been traveling a great deal but PORT has a lot of reviews and other content heading your way. Till then here are some links to mull over.

Jerry Saltz doubts the recently "found" Da Vinci painting... it is up for auction with a starting bid at $100M tonight. Overall, I find the painting to be just too convenient and yes pre-renaissance stylistically to be a Da Vinci without major question marks. The thing is auctions at this and of the market have very little to do with the art and a lot to do with turning cash (legal and dubious) into an asset that can be used as collateral for other things. This isnt about building a collection or appreciating art and most of the major collectors I know have a certain distaste for auctions. Interesting that Jerry's segment for NBC news got cut after it was taped. hmmm...

Here is a fascinating article about whether art can effect science... answer is yes. Science like most professions has certain preoccupations driven by what people believe and one great thing about art is it can present different epistemologies.... ones that can be tested scientifically. Sometimes, one has to see something to believe it is worth testing. I've always loved the odd hems and seams (seems?) that are woven into to the art/science dialectic. That also means that art is not some isolated cul-de-sac of civilization. It can express idiomatic world views rather than just illustrating them. The work which seems like a strange outlier is actually quite important... it can be a different understanding knocking on the accepted ideas. Something that has been increasingly rarer to find in art and politics... both of which have been losing their more supple approach to connecting with people. Sometimes you have to challenge something to keep it valid and capable of fixing themselves. Freedom and liberty are two of those things. Science and Art are both crucial, it was making both science and art available to the public that lead to greater liberties. The second those things stop being free range and directed by ideologues things get worse for all but a few.

Which is a great segue... No, artspeak generally is not used to disseminate actual research as art. It is a special kind of careerist sublimation of how and why certain art operates. True some research works (notice how Andrea Geyer's dialog around this show was pretty direct... and arguably the last "Great" visart thing I've seen PICA do) but more often it is just code for, "dont challenge my all important CV." In fact, anything is fair game and in a time where institutional rigging and tampering effected a major political election I'd say that no amount of research actually justifies work. Instead, its the way art reveals the mortar that holds various bricks of civilization together... or even how those walls fail that makes art and critical assessment (which requires comprehension of goals and intentions) important.

It is a long established fact that developers usually come into places that artists revitalize 10-15 years after the artists move in. This has happened in Portland. The difference in this latest situation in LA with Laura Owens is a very successful artist (many of whose collectors are wealthy developers)is seen as being too quick a catalyst. It is a cautionary tale and I'd like to see development in Portland that creates new... (more)
Read More
Posted by Jeff Jahn on November 14, 2017 at 14:10 | Comments (1)
---
First Thursday Picks November 2017

Adam Sorensen's Places at PDX Contemporary

I've followed, championed and worked with Adam Sorensen .. going way back and Places is easily his strongest exhibition to date. I think it is the sublime aspect that isnt just filled with wonder but a certain terror of impossible discovery and landscape that lets us locate our own fantastical expections for nature that works here. It is also his most zen-like un-fussy but precise paint handling that works here. In these somewhat terrible times Sorensen shows us a fantasy that is at once both appealing and synthetically off. It provides a fantastical recalibration and spa-like perceptual respite at the same time.

Places | November 1 - December 2
First Thursday Reception: November 2, 6-8PM
PDX Contemporary
925 NW Flanders





Rockstar Wayne Coyne is also a visual artist and his immersive multimedia installation King's Mouth is making a stop at PNCA's 511 Gallery. Is psychedlia enough? Probably... since the spectacular happenings at The Flaming Lips shows are in many ways their signature it would be interesting to explore the aesthetic in a gallery.

King's Mouth | November 2 - January 6, 2018
First Thursday: November 2, 6:00-8:00PM
PNCA
511 NW Broadway

Read More
Posted by Jeff Jahn on November 02, 2017 at 15:18 | Comments (0)
---
End of October links
Hyperallergic looks at the Istanbul Biennial... exploring what makes a good neighbor (in the Middle east, ugh). Interesting how the smaller biennials seem to get how art needs to relate to the unspoken things that grease the wheels of our world. The work itself?... a tad too illustrative and reliant on cues that it is contemporary art, but I'm not expecting bold moves.

Most any intellectual worthy of the word has found Artforum of the past 20+ years to be a an avoidable style guide for looking like the boorish art inteligencia... and should applaud that the magazine is vowing to turn over a new leaf after its former head stepped down in scandal. Now David Velasco is the new Editor in Chief. Congrats to David who has contributed to PORT in the past!

...(more)
Read More
Posted by Jeff Jahn on October 31, 2017 at 19:39 | Comments (0)
---
All Hallows Picks
True, every day in Portland is Halloween... so I dont particularly celebrate it other than as an excuse to explore that which humanity has a tenuous understanding of. Still, artists are the masters of the kind of exploration... here are my picks of the best things to see during this holiday.



photo: Yamazaki Kenji

The Portland Japanese Garden is one of our premier cultural gems and the latest exhibition Mirrors of the Mind: The Noh Masks of Ohtsuki Kokun is perhaps the ultimate exploration of sophisticated mask creation. Noh masks are incredibly subtle as they are meant to be animated by the slightest turn transforming mild into sly and the demonic into loyal or honorable in the hands of a capable actor. This gives Noh masks an otherworldly aspect that draws viewers into a kind of phantasmagorical understanding/experience of why and how faces convey complex meaning through manipulation of light and posture. Master mask maker Ohtsuki Kokun elevates what in the USA has been thought of as merely an entertaining past time into something more sublime and hard to pin down. Certainly these mask reflects on a place of shadow where humanity dwells and communicates... masks can reveal the ghost in the machine. On top of that the Garden in Fall is simply outstanding.

Mirrors of the Mind: The Noh Masks of Ohtsuki Kokun | October 14 - December 3rd
Portland Japanese Garden
611 SW Kingston Ave




Bill Will, House of Mirrors

What could be more frightening than the state of the USA at the moment? (Ok there are worse moments in human history so lets hope things arent heading there). To that end perhaps no Portland artist illustrates the risks that have always been present than Bill Will. Will is one of Portland's biggest trickster satirist installation artists and in times like these what could be more appropriate than a lil art sideeye? Funhouse at the Hoffman Gallery is just what we need, a reminder of just how wrong we have always been as a nation. The entire menagerie of installations themselves form a funhouse with a specific route of whirling twirling theatricality that the viewer completes as a participant... predictably ending in a gift shop.

Funhouse | September 10 - December 10
Ronna and Eric Hoffman Gallery of Contemporary Art
Lewis & Clark College
0615 S.W. Palatine Hill Road



Read More
Posted by Jeff Jahn on October 26, 2017 at 18:16 | Comments (0)
---
Mid October links and news
With the Weinstein reckoning an artist whose work touches on this reality of abuse has been removed. Should the prophylactic response be used here? Do we remove anything that might be provoking or address inconvenient truths? It certainly wasnt Weinstein-enabling, if anything it addressed his type of behavior when others wert gym curator re turning a blind eye. Earlier this year Sam Durant's piece at the Walker made sense to remove... those gallows were simply like dancing on graves though it worked when initially shown at Documenta (why was the Walker so tone deaf and not understand that it worked in Europe but not the USA?). The difference here is the Hollywood day bed was more nuanced... perhaps too much for a retail setting but that's popular culture failure not the artist's or the work's. True freedom requires dissent and the mainstream left can cause greater harm to itself by by policing culture and general dissent. As a critic I try to engineer pressure points where the inconvenient is foregrounded and to try to drive these upsetting things back into the background is a kind of censorship.

The Art Gym names Ashley Stull Meyers as its new Director and curator. Good that she has a background in marginalized communities... but how is she on dissent? Portland is a city of dissonance but its arts institutions are mostly very safe... rewarding those who sit on panels but not work that causes an uproar or provoke discussion. It is a civic weakness that requires correcting rather than mutual congratulation societies. We wish her well and hope she has the full support of the university as these programs have come under increasing pressure. What's more Portland is a notoriously tough place to fund raise and being new often means 5-10 years of proving yourself.

Artnet asks who the most influential curators were. That's an interesting question, mostly because curators... particularly those at museums have been losing cache (going mostly to directors, most who act like curators but often arent... when they are both the split attention can be a blessing or curse). I wont make a silly top 10 list but here are my picks: My favorite was likely William Rubin (whose time at MoMA explored risk as cultural currency), other MoMA greats like Alfred Barr, Kirk Varnedoe and Robert Storr all matter. Im a fan of Lynne Cooke and I want to name Ann Philbin who is technically a director. Pontus Hulten, Okwui Enwezor, Hans Obrist, Paul Schimmel and the brilliant Walter Hopps come to mind as well. We just dont have that many brilliant curators at major museums any more... they typically act like investment portfolio managers managing risk rather than ... (more)
Read More
Posted by Jeff Jahn on October 18, 2017 at 14:30 | Comments (1)
---
Weekend Picks: domestic edition

Andrew Wyeth, On The Edge (2001)

The Wyeths: Three Generations at the Portland Art Museum feels more like a family gathering than a museum survey... because that is exactly what it is. It is a good thing. Whether you love Andrew Wyeth's bone ghostly landscapes or his masterful wisps of existential hair in hardscrabble Americana or not this exhibition extols a waspy New England generational presence, like a Thanksgiving Day rendezvous with all the familial dramas, humor and warmth simmering underneath. That said, I am an unrepentant Andrew Wyeth fan despite the work never really being couth in Greenbergian... then Artforum circles (a sign he was on to something) and I also grew up appreciating N.C Wyeth's illustrations. All of which contributed to a more fluid appreciation of visual culture that doesnt put artificial barriers up between graphic art and Art. As a family, the Wyeths cover the whole spectrum... but Andrew Wyeth is the great one and the reason there is a traveling exhibion of his family's work. There's a vitality in this filial arrangement. Patriarch N.C. Wyeth has a fantastical bent, Andrew's world is haunted and Jamie brings humor and nature's animus. True, this a lot of waspishness here in a time when all white male Newenglanders are reviled as a kind of LLBean clad Brahman class in the US socio-political landscape but I am a firm believer that no one be they Mexican, Jew, Irish, Italian, Nordic or Hmong should have to apologize for what they are and what their culture brings to the table. There are some truly marvelous works, especially the large Andrew Wyeths that are not behind glass, several N.C. Wyeth oil paintings that became book illustrations and a witty conclusion with Jamie Wyeyth, whose painting of empty adirondak chairs sums it all up. Make certain to stream Victoria Wyeth's sold out talk on Sunday on PAM's Facebook page (It wont be archived so you have to watch it real time)... Victoria is a hoot and really brings the family history into perspective.

The Wyeths: Three Generations | October 7 - January 28, 2018
Granddaughter talk: October 8th 2PM
Portland Art Museum
1219 SW Park Ave





The latest show at Indivsisble, Coded Albumen, features artists Bukola Koiki and Angelica María Millan Lozano. The work explores the way immigrant women have always been crucial instigators of political action though code. Just to restate the obvious I love how Indivisble brings art into a domestic space and in many ways this is what contemporary art at the institutional level has lacked... a sense of extraordinary connection to everyday life... hopefully this latest show at Indivisble distills this important thread...

Coded Albumen | October 7-28
Reception: October 7, 6-9PM
October 14, 21, 28, noon to 5PM, and by appointment.
Indivisible
2544 SE 26th Ave

Read More
Posted by Jeff Jahn on October 07, 2017 at 9:35 | Comments (1)
---
First Thursday October 2017 Picks

Calvin Ross Carl is one of those bright spot artists in Portland who effortlessly combines design and art into the restless tensions of the age. His latest works at Russo Lee Gallery titled, "I am here till I am not," are perhaps his most realized to date, combining the exciting patter work of years ago with the hipster sloganeering of his recent series. It seems to have deepened, becoming both abstract and poetic, not just merely cool and positioned. He's maturing into something special, not just the latest pop-spoit-splainer.

I am here till I am not | October 5 - 28th
Russo Lee Gallery
805 NW 21st




The final exhibition for Compliance Division is Maximiliano's drwned cities. Maximiliano is one of my favorite new Portland artists and always has an incisive take on gender, fashion and identity. Too bad it is Compliance Division's last show but it is best to go out strong and Everett Station Loft Galleries are always turning over. 2-5 years is all that can be expected of them and Compliance Division has been memorable.

drwned cities | October 5th 6-9PM
Compliance Division
NW 6th between Everett and Flanders, #101




... (more)
Read More
Posted by Jeff Jahn on October 05, 2017 at 13:07 | Comments (0)
---
Weekend Picks


The Boathouse Microcinema is one of the brightest spots in the Portland scene and their latest, "PDX Cinematic Psychogeography," features Portland artists who use the filmmaking process to explore and better understand the world around them.

"There will also be films by visiting artist Deborah Stratman, whose own experimental landscape films have screened at venues ranging from the Sundance Film Festival to the Whitney Biennial. Artists include Dustin Morrow, Jodi Darby, Eric Fox, Julie Perini,Pam Minty,Ross Reaume, and Deborah Stratman. Program curated by Matt McCormick, Adam Simmons will be on the video wall."

PDX Cinematic Psychogeography
September 30 | doors at 7:30 - show at 8:00
$8 - seating is limited
Boathouse Microcinema
822 North River Street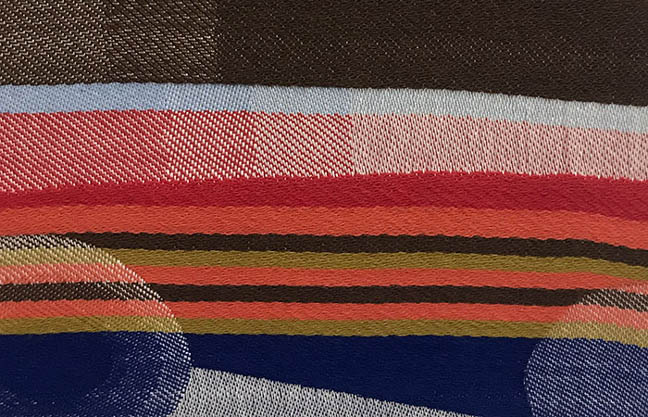 Jovencio de la Paz (detail)

We all still wonder what will become of the Art Gym since newish director Blake Shell left to head Disjecta (her curating seemed hemmed in at the school) but at least her last show Breaking Symmetry shows a return to what we loved about her stint at the Archer Gallery.

Breaking Symmetry focuses on contemporary fiber artists including: Emily Counts, Jovencio de la Paz, Jo Hamilton, Anya Kivarkis, Brenda Mallory, Kristen Miller, Emily Nachison and Jane Schiffhauer. It's the sort of obvious show idea nobody has had the curatorial temerity to do yet so its important and we all wonder what is to become of the Art Gym... it seems like all University Gallery programs have cone under a lot of institutional pressure and its a shame. Open-ended arts exhibition programs enrich campus life in important ways at any university campus, especially ones far removed from the city core. Marylhurst used to be an art powerhouse but even under founding director Terry Hopkins it had been waning... without a strong, fresh and adventurous eye at the helm the situation is concerning. At least we can enjoy this show.

Symmetry Breaking | October 3 - December 10
Opening Reception: October 1, 4-6PM
Art Gym
17600 Pacific Highway (Hwy. 43) Marylhurst University
Read More
Posted by Jeff Jahn on September 30, 2017 at 9:35 | Comments (0)
---
Vancouver Arts Summit Video

Perhaps you missed the sold out Arts and Cultural Summit in Vancouver last weekend? Well you are in luck, they videoed the whole thing and have posted it for you (I start speaking at 2 hours and 35 minutes if you want to avoid my yakity yak. I do talk about some art historical models and what Portland has done well and not so well. Vancouver seems interested and the person in charge of the national park section of the Fort is the same person who helped the Headlands center in the bay area form.
Read More
Posted by Jeff Jahn on September 27, 2017 at 20:18 | Comments (1)
---
Artist Opportunities
The Portland Winter Light Festival is looking for contemporary artists and more venue ideas. The festival hasn't been around that long but is looking to expand its serious contemporary art participation. If you have some innovative ideas bounce them off their staff... so far its been more of a cold dark damp burningman vibe but PNCA's faulty and programs are involved this year so they are deepening their offerings. Here is the link. Deadline: September 29th

Many Contemporary artists love libraries (why shouldn't they?) and the West Linn Library is looking for proposals. Deadline: September 29th

The Obama Foundation is looking to help artists get a leg up. True they seem to want art that is described in just a few words (because not much space) but that isnt always a bad thing. Deadline: October 6
Read More
Posted by Jeff Jahn on September 26, 2017 at 18:54 | Comments (0)
---
September quandries
Matthew Collings reviewed the new Basquiat exhibition at the Barbican. What Ive always liked about both Collings and the artist is the way they hone in on conceits and generally accepted nonsense. It gives them both a bit of grit 'n gristle. Too bad the "notions of cool" sound like another Basquiat show which tries far to hard to be both in the know and safely institutional. It is hard to be both and it always makes those curators seem off balance... I call it oversteer. The good thing is Basquiat's work can survive such posing... because it is precisely designed to be critical of such posur-posturing. We could use more of that but it is a difficult thing to achieve in a world of instant gratification.

Brian Libby has two articles on thePortland Building. The second discusses the issue of preservation. I tend to agree with him on this, the Portland building was never right and therefore always compromised... sort of like the Leaning Tower of Pisa started tipping right away. Better acknowledge the flaw by stabilizing it so it can last. Besides the materials are not as important as the visual impact here. At least they are going to save the Portland Building and make it a proper functioning structure. One thing they must do right is the revamped gallery space. There are many ways to improve it through the renovation. It is already an important venue but it could be so much more.

Artists defend Documenta and its curator. That's all well and good but I'm a firm believer that curators should be defending both the artists and the institutions. True this value engineering of culture is a problem but somehow I do sense that bigger leads to diffusion and this Documenta 14 got away from its staff by design (we covered 13). Last year's Portland Biennial was also a mess because it spread itself too thin... at a certain point these festivals need to be distillations not simply an invitation to get lost. That strategy has diminishing returns, especially with a world growing ever hostile to open ended thinking. Try to raise the stakes rather than obscure them.... and this financial inquisition is just another distraction that points to something amiss. Let's be smarter than the cultural bean counters by knowing how many beans will be required to plant? They had to know the Athens section would be scrutinized relentlessly in financial terms... state of the EU and Greece's debts and all.

Jasper Johns creates an artist retreat out of his home... generous but doesn't he need that? Moves like this are important but worrysome.

There is never enough time to cover everything so Jerry Saltz does short reviews. Ive done that occasionally done that... due for another batch but I use it to look back as an overview (Jerry has a very complicated locale to cover).

Last but not least I'll be one of the panelists at this years Clark Arts Summit in Vancouver. Look, I've never thought of the 'couv as a cultural dead zone (the Archer does some of the areas best shows) and by looking to activate Fort Vancouver etc. they might just be able to avoid some of Portland's mistakes (too much middling collaboration at the cost of vision, little support for small arts venues + a general phobia around ambition) at the institutional level. See you there.
Read More
Posted by Jeff Jahn on September 20, 2017 at 9:19 | Comments (0)
---
Interview with Jennifer Steinkamp
Jennifer Steinkamp is a digital art pioneer who creates vibrant, often mesmerizing works that explore; education, science, pathology, art history, even politics. A professor in the Department of Design Media Arts at UCLA, Steinkamp, is simultaneously both an educator and one of the best known digital artists on the planet. In the following interview she discusses everything from her 1st grade teacher to technology... and far more difficult subjects as two Mid-westerners might on the site at her eponymous exhibition at the Portland Art Museum on view through September 17, 2017.



Jennifer Steinkamp in front of Orbit 11 at the Portland Art Museum (photo Jeff Jahn)


Jeff Jahn: So pleased to have you here in Portland... it is a treat for those of us who followed your contribution to Dave Hickey's Beau Monde, a show, which is credited as a break of a certain kind of academic Postmodernism and ushering in a return to Pluralism. Since Beau Monde in 2001 we have been wondering when Portland would finally get a Jennifer Steinkamp exhibition?

Jennifer Steinkamp: Beau Monde was such a great show, has he (Dave Hickey) come here?

JJ: yes, over 15 years ago right after he received the MacArthur. Some careerist academics walked out of his talk and afterward at a cocktail reception all these Reed professors were trying to throw their jive at him. I remember he mentioned how he had not found much of a use for Derrida and they were horrified yet intrigued because JD was so central to their understanding. They were trying so hard to ask good academic jargon questions but he always had a specific historical or literary anecdote that would show that things were rooted to time and place. He just kept grounding things to their original inspirations and intellectual relevance... basically the real reasons we were still talking about them.

JS: He's so funny


... (more)
Read More
Posted by Jeff Jahn on September 13, 2017 at 11:14 | Comments (0)
---